Trouble on Temple Street: An Officer Ellie Rush Mystery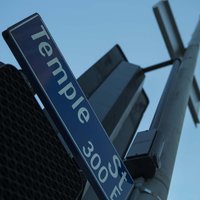 When Aunt Cheryl and I arrive on Cortez's floor at USC L.A. General Hospital, I feel my heart both rising and sinking at the same time. Rising because Cortez has come out of his coma. Sinking because I don't know if I'll be allowed to see him.
Appearing from the side waiting room is Nay, and Aunt Cheryl immediately becomes frostier than even usual.
"Girl, it's about time you showed up," Nay says, giving my shoulders a squeeze. Aunt Cheryl, meanwhile, doesn't bother to say hello to Nay and continues through the automatic doors ...