As You Like It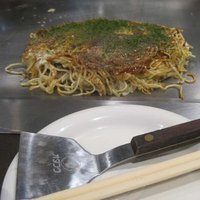 It takes Gen some time to calm Tom down. After all, I, his enemy, have taken over his grill. It doesn't matter whether you are from Hiroshima, Japan, or Harlem, New York City. No chef should invade another chef's cooking space, even if it's outdoors in the middle of a food festival.
"Maybe I should stop," I say to Risa, as I flip over another okonomiyaki.
"Are you kidding me? Look at the line. If you don't give these people what they want, we'll really be in trouble." Risa returns to chopping another head of ...