Trouble on Temple Street: An Officer Ellie Rush Mystery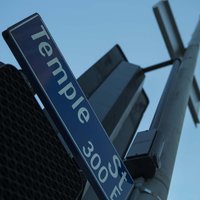 I press the buzzer by the door of a small brick building.
The door immediately opens, as if Father Kwame is expecting us. He greets my dog first. "Hello, Shippo," he says, and Shippo wags his tail in response.
The priest ushers us into his corner office and excuses himself to make some tea.
Shippo makes himself at home on a throw rug while I sit underneath a floor lamp. There are books on the shelves lining the walls. They are not only in English, because Father Kwame is fluent in about six languages, and they are not only religious ...