Trouble on Temple Street: An Officer Ellie Rush Mystery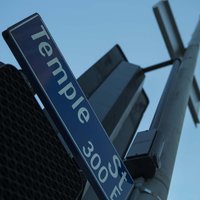 You can get the wrong idea from TV police shows. Officers discharge their weapons multiple times in every episode, when the truth is, most of us never fire our guns in the line of duty, even in a big city like Los Angeles. And for homicide detectives like my boyfriend, Cortez Williams, and especially bicycle cops like me, our guns will only get action at the firing range.
So to hear that an officer is down, only a few blocks from where we are in Pershing Square, is a big deal. My partner, Johnny Mayhew, is a champion BMX rider ...