Nikkei Chronicles #1 — ITADAKIMASU! A Taste of Nikkei Culture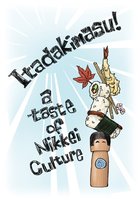 In order to give you a better idea of who I am, we can start by saying that I am a product of southern Chile where I was born and raised and where I got my first teaching experience. Within those parameters—even today—Japanese culture was hard to come by, and, very little of it was practiced inside our home. My childhood was defined both by a domineering Chilean mother who ran the same tight ship that she had experienced growing up and a small town setting.
The power of this chilenidad was felt, curiously enough, at the table ...