Trouble on Temple Street: An Officer Ellie Rush Mystery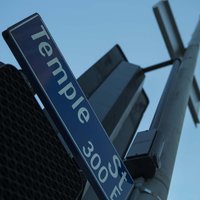 It's past midnight and someone's turning the key to my double-lock on my front door. I know who it is and even Shippo doesn't bother to get out of his doggy bed.
Some women wouldn't like it if their boyfriends smelled better than them. I've never worn perfume and sometimes even the scented pages of fashion magazines cause me to dissolve into a spasm of sneezes. Cortez Williams lays it on thick with ample splashes of cologne on his freshly shaven jaw. By midnight, his afternoon shadow is back and the cologne lingers, but it ...