Trouble on Temple Street: An Officer Ellie Rush Mystery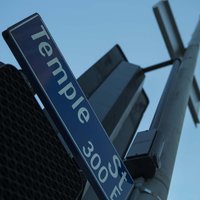 "What?" I say, my voice rising as the din at Bottega Louie gets louder with the "ladies who lunch" crowd.
"The cop was dirty," Rowan James repeats, and I suppress the urge to sock his drunken face in the mouth. How can he say that about my boyfriend, who may be fighting for his life at USC General Hospital in Lincoln Heights?
"Cortez Williams is not dirty," I exclaim.
"You know him?"
"You're not worthy to shine his shoes." I don't know where that came from. Maybe I heard my Grandma Toma say that one time. I had ...