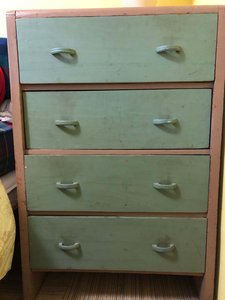 "If there is joy, it is a painful joy."

—Karen Tei Yamashita, "Konmarimasu"
I call it the camp dresser because it was made in camp. As far as we know, anyway. The camp dresser was in my Auntie Sadako's house in a closet for years.
She and my uncle are downsizing, preparing for a move. Thanks to the help of some friends with a truck, the dresser's now been moved from the San Francisco Bay Area to our house in Tacoma. What my auntie knows about it is that it was made in camp, but she doesn't ...