1. Okinawa Sumo at the Beginning of the Migration

As part of the Ryukyu government's group emigration plan, from 1954 to 1964, over 3,200 people moved from Okinawa to Bolivia in 19 different waves. Historical records on Okinawa sumo from that time are scarce.
On September 18, 1955, the Okinawa Sumo Tournament took place as a form of entertainment. The union offices and migrant housing of the time were built along the Palometillas River. Because the white sands of the riverbanks stretched on and on, it was the ideal setting for an Okinawa sumo dohyo (wrestling ring). There were no weight classes, and matches started with the relatively weakest wrestlers. Using a single-elimination format, matches continued until a wrestler had won five times. Once that stage was complete, a championship tournament took place among the wrestlers who had won five matches in the previous stage. One after another, surprisingly strong wrestlers emerged, leading to long, hard-fought battles and a great sense of appreciation for Okinawa sumo among the people watching. This particular tournament was, in fact, the very first official, properly planned and executed sumo tournament in Bolivia.
Within the lands of Okinawan migration, first, second and third settlement areas were developed in order. Okinawa sumo was found within each one, with some areas even creating sub-regions to hold events for migration anniversaries, coming-of-age celebrations, receptions, farewell parties, Christmas, etc. Sometimes tournaments among all 3 settlement areas were also held. Also, when the Okinawan groups in South America held its conferences in Brazil, Argentina, Peru or Bolivia, they even held international tournaments among the 4 nations. In 1964, in celebration of the 10th anniversary of migration, an international tournament was held in Bolivia.
2. Launching of the Association for the Promotion of Bolivian Okinawa Sumo
For a long time, Bolivian Okinawa sumo used a single-elimination format for its tournaments, but since the event held to celebrate the coming-of-age ceremony in 1978, 3 weight classes were introduced and competitions among sub-regions within the settlement areas (6 sub-regions) were combined into group matches. Bolivia's 1979 international tournament was held in celebration of the 25th anniversary of Okinawan migration, evolving to include lightweight, middleweight, and heavyweight classes and strong matches among wrestlers representing each country. As the first tournament among all 4 countries held in Bolivia in some time, it sparked passionate support and a great celebration of the migration festival.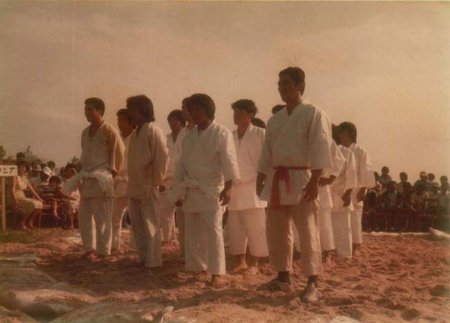 The 1980s was a time of hyperinflation in Bolivia, while Japan was in a period of economic prosperity. That led to a large number of migrant workers heading to Japan. A sumo tournament was held as entertainment for a coming-of-age celebration sponsored by the Association of Japanese-Bolivians from Okinawa, an administration department created in 1978 to consolidate the three settlement areas. However, in 1985 there were no participants and it naturally vanished. For several years after that, the fever for Okinawa sumo cooled. After the preliminary matches held in Bolivia as a lead up to the 1986 international competition in Argentina, the sumo tournaments ceased.
While there wasn't a particular movement to resuscitate them, in December 1991 a group of people who loved Okinawa sumo came up with an idea – "Okinawa Sumo. Revival. Promotion." Once agreement was reached, they wasted no time, and on December 5 of the same year, the "Bolivian Association for the Promotion of Okinawa Sumo" (first chairman, Seiei Shiroma) was launched. It was a day that should be commemorated as it marked the first time in Bolivia where an organization handled promotion and management of Okinawa sumo. The Association of Japanese-Bolivians from Okinawa, which was the administrative body for all the migration regions, also supported the movement and, in 1992, decided to subsidize it. With the government and citizens working together, matches aimed at creating a legacy and developing Okinawa's traditional cultural treasure, "Okinawa sumo," began.
3. Okinawa Sumo After Launching the Promotional Association
Two days after the promotional association was formed, it filed a request to hold an Okinawa sumo tournament sponsored by the Santa Cruz Okinawa Kenjinkai, and sent a delegation of judges. Since it was the first tournament in years, and on top of that, the planning was rushed, few wrestlers participated. In fact, some members of the judge delegation sent by the promotional association took part as so-called example sumo wrestlers.
The first Okinawa sumo tournament sponsored, as well as managed, by the promotional association was held in February 1992, as part of the coming-of-age celebration sponsored by the Japanese-Bolivian Association. The tournament featured a student division for middle school and below, and a general division for high school and above. The student division matches were fought in order of school year, from lowest to highest. The contest featured a single-elimination, keep-going-until-you-lose format. After middle school student matches were finished, a championship tournament was held for selected elementary and middle school students. A tournament was held for the general division, separated into lightweight, middleweight and heavyweight classes, followed by an open contest with no weight classes.
To revive interest in Okinawa sumo, which had vanished for a long time within the migrant community, they approached it with an eye to finding content and an administrative approach that would allow the tournament to be sustained. To that end, they urged many students to participate in order to expand and educate the base. Also, by developing non-competitive sumo wrestling where the ranking (results) didn't matter, it was possible to enjoy and feel a stronger sense of familiarity with sumo.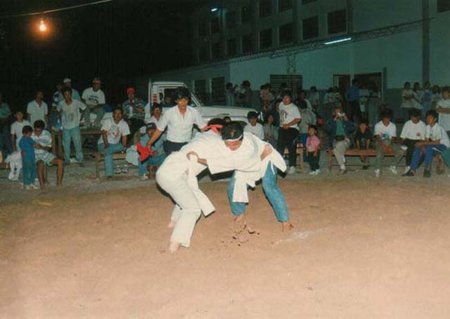 The tournaments that followed were held at coming-of-age celebrations sponsored by the Japanese-Bolivian Association, softball tournaments, emigration anniversaries, as well as at events like the Colonia Okinawa General Agricultural Cooperative's celebration of its founding. However, with the popularity of sumo solidified, the 10th tournament, which took place in September 1997, was a stand-alone event by the Association for the Promotion of Okinawa Sumo, independent of other celebrations. For the first matches, there were concerns about how many first-time wrestlers would participate and how many spectators would attend. But with numbers that actually topped past tournaments, it provided a great harvest and was a great success.
In 2004, the Okinawa migration region celebrated its 50th anniversary. As one of the events to mark the occasion, a grand Okinawa sumo tournament was held. Wrestling teams from all over participated, including 9 wrestlers from Brazil, making it the equivalent of a true international competition.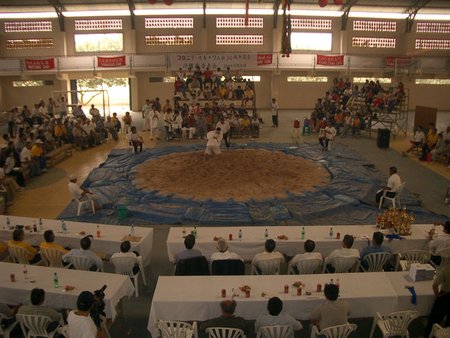 As of this writing in January 2009, there have been 27 tournaments, and now the issue is the transition from one generation to the next. In the beginning when the promotional association began the tournaments, many participants were in their 30s and 40s, and they had always loved sumo. However, as the activities have been passed on to the younger generation in recent years, the number of participants has dropped dramatically. And now the role of managing the tournaments must also be taken on by the new generation.
Okinawa prefecture wants people around the world to understand that Okinawa sumo is not just a form of martial arts, but a proud and long-held traditional national treasure. By doing that, it makes it possible to leave an ongoing legacy of wrestling. Plus, having Okinawa sumo in Bolivia allows Okinawans to reaffirm their identity, and provides a valuable culture that can be accurately passed on to future generations. Spreading that awareness also serves as a guide to the legacy and development of Okinawa sumo.