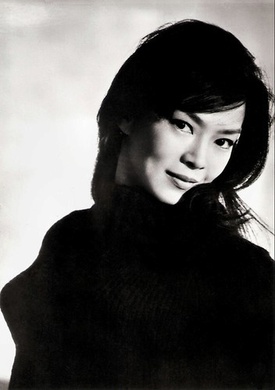 Yoko Tani, an Asian actor working primarily in the 1950s and 1960s, was born Itani Yoko. Though both her parents were Japanese, she was described, from time to time, as Eurasian, half-French, half-Japanese and as a surprise Italian-Japanese. These labels persisted probably because of WWII or the producers, agents or managers wanted to make her "exotic", like Nancy Kwan, and thus "acceptable" to white audiences. The "facts" reveal that both her parents worked in the Japanese embassy in Paris, France. Yoko was conceived on board the ocean liner that brought the family to Europe; she was born in Paris. Hence her name means "ocean-child".
After starting school in Japan in 1930, she returned to France to attend university. She wasn't much of a scholar; instead, she was attracted to the cabarets, nightclubs, and music-halls of the City of Lights. She began dancing exotic "geisha" routines and appearing in cheesecake photographs. She was soon spotted by a film director and thus began her film career in bit parts as the stereotypical "oriental" woman.
But then she went back to Japan where she played roles in a couple of films by Taniguchi Senkichi and Hisamatsu Seiji. In Europe again, she had a small part in the MGM production of Graham Greene's The Quiet American. From there, she established herself with roles in such films as The Wind Cannot Read with Dirk Bogarde and the egregious My Geisha, with Shirley MacLaine in yellow face. She played an Inuit in the Anglo-French-Italian (no Canadian involvement it seems) film The Savage Innocents. It was nominated for the Palme d'Or at the 1960 Cannes Film Festival.
She enjoyed a steady if unspectacular career in Europe, but for me there are a couple of notable roles besides the ones mentioned above. In a former column of mine, I mentioned the Danger Man (Secret Agent Man in the US) episode Koroshi. She played Ako Nakamura, a woman bent on revenge for the murder of her sister. David Toguri, a Japanese Canadian, appeared as a police commander.
To my surprise, I found there was a sequel to the episode. In Shinda Shima, John Drake (Patrick McGoohan, the secret agent of the series title) goes back to the mystery island in Koroshi to fight evil. Along for the ride are Yoko Tani as Miho and David Toguri as Commander Yamada. Both episodes (later joined together to make it into a movie called Koroshi) are silly, but it is nice to see Japanese actors portraying Japanese characters. I tried to overlook the fact that most of the bad guys are white (some in yellow face) with a few Chinese actors thrown in for good measure. Of interest is the fact that the plot is like the James Bond film You Only Live Twice.
The other Yoko Tani role that is of significance is as Mary Ota in the James Clavell written and directed 1962 film The Sweet and the Bitter. Clavell developed an interest in Japanese themed films and TV series, Shogun comes to mind, but given it was 1962, it is odd to find a film about the Japanese Canadian internment.
Yoko Tani plays a woman who seeks to avenge her father's internment-camp death during WWII. The film mentions the loss of property and businesses. In particular, the father lost his fishing boat, stolen by the man Mary Ota wants to hurt if not kill.
The film was shot in Vancouver and Steveston (though this location was not identified as such). A friend remembers a casting call within the Japanese Canadian community back then. Many answered that call.
Another notable actor in the movie was Teru Shimada, a Japanese American actor who had a significant part in You Only Live Twice (Mr. Osato, SPECTRE agent). What is it about that film? He is instantly recognizable.
The Sweet and the Bitter is unique for its time and subject matter, but there was no North American release of it because of financial and legal problems. Eventually, a showing of it took place in London in 1967. There was a DVD of it released in 2015, but it quickly went out of print. A used copy is virtually impossible to find. I have my name in to be notified if it ever comes up for sale. If I ever manage to find it, I promise to review it.
Yoko Tani retired from the film industry in the late 1970s. She spent her declining years in France, living quite comfortably in Paris and a seaside house. She died of cancer in 1999.
She may be an obscure actor, but she is a treasure for me and a mystery about how she sustained a career while contributing to Japanese North American film lore.