Nikkei Chronicles #2 — Nikkei+ ~ Stories of Mixed Language, Traditions, Generations & Race ~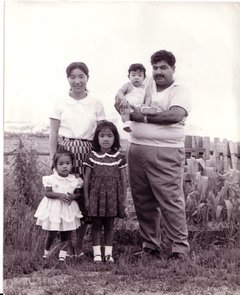 During the war my father, Daniel Garcia (born Dec. 7, 1925 in Pasadena, CA), assembled shells onboard his ship to slam away at the Japanese installations. In Japan my mother, Yoshiko Fuchigami (born Feb. 2, 1930 in Atsugi), was assembling munitions to throw at the American invaders. Indirectly they were doing their damndest to kill each other. Having failed, the war over, they met, fell in love, and were married.
Their meeting came about via my grandfather. As a member of the Military Police, my father transported my grandfather, who was acting as a liaison between the local police and ...