While putting together her new cookbook, Canadian Vegan Recipes, chef and author Caroline Ishii had to figure out exactly what Canadian food is.
The book, which is published completely in Japanese, aims to teach a Japanese audience about vegan cooking (using no animal byproducts) as well as Canadian culture and cuisine.
In her initial discussions with her Japanese publisher, Kirasienne, Ishii says the editor-in-chief was interested in learning more about Canada.
"We don't know anything in Japan about Canada," the publisher told her. "We don't know what Canadian culture is, we don't know Canadian history and we don't know Canadian cuisine. What is it?"
"That is when I first started thinking, what is Canadian food? And I really liked the opportunity to promote Canada in Japan," Ishii explains to Nikkei Voice in an interview.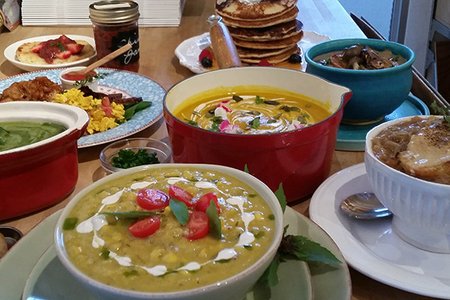 While Maple syrup and bacon are correct, she says she knew it was much more than that. It would be like saying Japanese food is sushi. While correct, it is so much more.
Challenge yourself to think beyond maple syrup and poutine, what is Canadian cuisine? Flipping through Ishii's book, so many of the recipes jump out as classics and favourites on Canadian dinner tables. So what is Canadian food?
Ishii explains that asking any Canadian what Canadian cuisine is, you will probably get a different answer, so she decided to focus on five major themes that have shaped Canadian cuisine.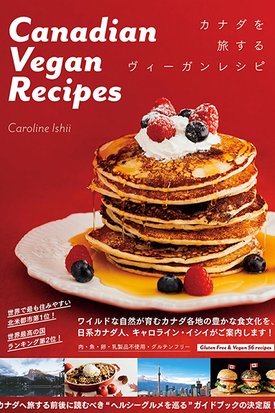 These key factors are:
Immigration patterns: Canada is a country made up of immigrants who have brought and shared their customs and culture that influence what Canadians eat.
"We are such a multicultural society, food like pierogies we've adopted as a Canadian dish," says Ishii. "Who doesn't like pierogies with sauerkraut and sour cream?"
Regions: Canada is a large country with different regions, that are famous for certain ingredients, like potatoes from the Maritimes.
Indigenous peoples: The first in Canada, their influence is still felt today. Indigenous peoples were the first to tap maple trees for syrup, a food synonymous with Canada.
Diversity in urban centres: Major cities in Canada host neighbourhoods like J-town, Chinatown, Little Italy and Greektown that offer some of the greatest eats in the city.
Nature: Different seasons bring different foods, and cooking outdoors is a favourite pastime during Canadian summers.
"We have this love for BBQ as soon as it gets warm; hot dogs, wieners, camping, picnics, even though we have a short season," she explains. "As well, in the winter, things like hot chocolate after skating and hot apple cider."
"I chose things that were quirky, like Canada has the most number of donut shops in all of the world, per capita," she says. "I thought that's so much fun, and I did a healthy version of a baked maple donut."
After deciding what was Canadian food, Ishii picked dishes that could be altered to be vegan recipes, and made adjustments for a Japanese audience. Many Japanese homes do not have ovens, and instead use stove tops, grills and toaster ovens, says Ishii. As well, Japanese readers prefer recipes with very specific measurements, using kitchen scales over cups and teaspoons.
There are not as many vegans or vegetarians in Japan as Canada, says Ishii. She points out that as tourism continues to boom, Japan is trying to become more accommodating for the different people that brings, especially as the country prepares for the Olympics in 2020.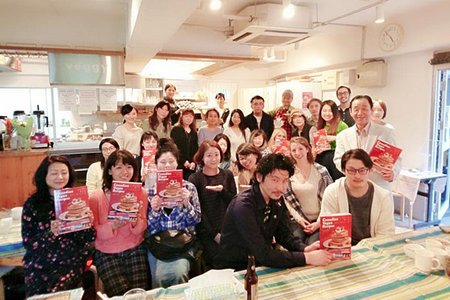 "They have much more integration with the outside world," she says. "I think because foreigners are coming in with all of their allergies and their dietary restrictions. There's a real awareness of trying to get ready for the Olympics and trying to make Tokyo more accessible in language and food."
Between the recipes, Ishii includes short columns with information on Canada, including history, maple syrup, Canadian celebrities and indigenous history to give readers more of a perspective on Canada.
She also focuses on her history as a Japanese Canadian, telling the story of her grandparents immigrating from Kobe, Japan to a small island off Vancouver Island. She says it was important to share her story as a Japanese Canadian.
"I hope it's interesting to Japanese people, what happens to a Japanese boy when he comes to Canada when he's 18," she says. "I felt like my ancestors were pulling me, and I think they would be happy to tell this story."
Ishii says she felt a connection to her ancestors while in Japan. A full circle journey, from her grandparents leaving Japan, to her returning years later and sharing her Canadian story.
"I wanted to make sure it was the same philosophy as me, so this is Caroline's view Canada, because there is no one way," she says. "So I dedicated the book to my grandparents, for them coming to Canada so I could be Canadian, all their struggles of coming here. And here I am now writing this book on the 90th anniversary of relations between Canada and Japan. I wish my grandfather knew that."
* * * * *
For more information on Caroline Ishii's book Canadian Vegan Recipes, visit her website: www.carolineishii.com
*This article was originally published on Nikkei Voice on June 19, 2018.