Read previous chapter "Future" >>
There are a number of impediments which inhibit Japanese Cuban unity in Cuba. Here I provide some issues which need to be addressed in order to facilitate better and stronger Japanese institutions in Cuba.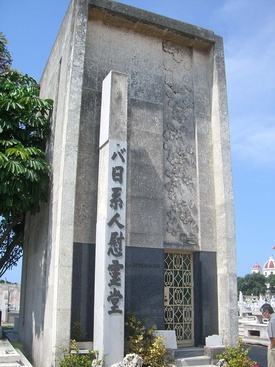 The small number of Cubans with Japanese heritage has been mentioned, and as with other peoples which assimilate into a host country, as time goes on, the more difficult it can be to preserve the language and other components of a culture.
Japanese Cubans do not have many monetary resources, which is the same with almost every Cuban. Cuban government officials often have access to better homes, health care, food, and other privileges that are out of reach for the average Cuban. This lack of money prevents the construction of museums, schools, and institutions that could promote Japanese language and culture. Unlike rich Nisei in the United States, Brazil, or Peru, which have large Japanese populations, there are no wealthy Nikkei in Cuba who can donate money to promote Japanese cultural institutions. The combination of the Japanese community's small size, and dearth of monetary resources impedes their ability to promote their culture.
The truth of the matter is that the Japanese government could do more to support the efforts of the Japanese Cuban community. Olga Miyako Kato notes that, "I used to receive magazines from the Embassy regarding issues in Japan. I was able to learn about Japan through these magazines. They also used to travel throughout the country visiting Japanese communities. This is no longer the case."1 During the Eighth Convention of Pan-American Nikkei in 1995, the Japanese ambassador to Peru urged the delegates to "leave the traditional Japanese culture to the third and fourth generations which are the Nikkei generations in the world. I would like to ask all the participants' cooperation, so that the third and fourth generations can move from being simple Nikkei and become Nikkei of international transcendence."2
Apparently, the Japanese government must not have really meant to include Cuba. Japanese cultural grants totalled only 190 million yen (about US$1.6 million with the current exchange rate) from 1975-2004.3 Japan's Official Development Assistance worldwide in 2004 was US$8.9 billion and will increase by US$10 billion over the next five years.4 As Japanese-Cuban relations have been improving over the past seven years, the increase in diplomatic relations may result in increased Japanese aid.
In the past, Japan was worried that Cuba would not be able to repay its loans, particularly after Cuba's loss of Soviet subsidies in the early 1990s. The political pressure from the United States government has also eased and has allowed for high-level exchanges between Cuban and Japanese officials. Former Prime Ministers Ryutaro Hashimoto and Junichiro Koizumi have met with Fidel Castro and other Cuban officials to discuss areas of economic cooperation and development.
The transportation infrastructure makes it difficult, if not impossible, for Japanese Cubans to travel to an event like Obon. It is too expensive and time consuming to make the journey from mainland Cuba to the Isle of Pines.
The public transportation system is unique, to say the least. There are Víazul buses for tourists which are more expensive and luxurious. There is a second tier of buses, the Astro line, which are also large charter buses. The differences are that they lack air conditioning, seem to have more lines running, and are mostly reserved for Cuban nationals or foreign students studying in Cuba who can provide a Cuban university ID. Both Víazul and Astro are run by the government. The third tier is the camiones system which operates on a local level. There are certain locations in most towns where a person with a flat-bed truck, sometimes a small bus, or sometimes a tractor pulling a trailer, sets an arbitrary time and charges a few pesos for fare. The only way to find out the schedule is to ask a local. If the camion doesn't fill up then the driver may decide to cancel the trip for that time or day.
These conditions make it very difficult, from a cost and time standpoint, for Cubans to travel anywhere on the island. The only route to the Isle of Youth is by a Soviet hydrofoil from Surgidero de Batabanó. A ticket used to cost $11 convertible pesos ($11USD) each way but the Cuban government has recently sponsored a program making the trip completely free for everyone.
In my discussion with the hydrofoil officials it appeared that the policy change came unannounced which leads me to believe that it could change once again. While this subsidy would help Japanese Cubans to travel to the Isle of Pines for the Obon festival held once a year, it is still difficult for families to make the trip with all the associated costs of housing, food, and incidental costs. A cheaper and more efficient national transportation system is needed, as well as putting more money into the hands of Cubans so that Cuban Japanese from all across the island can congregate for meetings and events.
The communications infrastructure inhibits all Cubans from communicating with each other. Almost everyone in Cuba has a telephone, or at least access to one, but the rest of the world knows how effective email and the internet can be in organizing civil society. It is illegal for the average Cuban to have internet access, due to fears of influence from the outside world. Only government officials, professors, travel agents, and other people who have a specific need for internet access are granted permission.
However, I was in a house where a professor was allowed internet access in his/her home, and someone had spliced the connection to another home. Ther number of unauthorized internet users in Cuba who obtain internet access in this fashion is unknown.
If Japanese Cubans had internet access it would help facilitate organization and communication on a large scale. The Japanese Cuban Association could create a quarterly online newsletter providing updates on Cuban Nikkei who could also access online educational material to help learn about Japanese language, music, dance, and culture through multimedia, online discussion forums, and live video and instant messaging services which could connect them with other Japanese worldwide.


Conclusion
Cuban Nikkei are a small and dynamic group whose unique identity is quickly fading as time passes by. With each successive generation, interracial marriage is becoming more common and the Japanese bloodline is being diluted. The absence of strong Japanese institutional groups and organizations is inhibiting the Japanese Cuban community's ability to further the history and impact of the Japanese in Cuba. The Japanese influence in Cuban history has been significant, but widely unknown. The potential impact of the Cuban Nikkei community on Cuba's future is significant, although it will mostly rely on energizing Cuban Nikkei youth, garnering the support of the Cuban government via the official recognition of the Japanese Cuban Society, and improving communication and outreach efforts and to the entire community. It will be interesting to see not only how all of Cuba will adapt to the impending passing of Fidel Castro, but specifically how the Cuban Nikkei will be affected, if any different than other Cubans. One thing is certain though: change- whether incremental or quick, is needed to strengthen the Cuban Nikkei community and allow them to reconnect with their past and move forward into the future.
Notes:
1. Interview. Olga Miyako Kato. Havana, Cuba. July 27, 2006.
2. Masterson. Japanese in Latin America. P. 276.
3. Japanese government. "MOFA- Japan-Cuba Relations." September 2006. Accessed Dec 9, 2006.
4. CIA World Factbook- Japan. 30 Nov 2006. Accessed Dec 9, 2006.
Also: Japanese government. "MIRAI Initiative and Other New Improvements of the Yen Loan Structure." March 31, 2006. Accessed Dec 9, 2006.
* This article is an excerpt from the master's research project, "Japanese Cubans: Past, Present, and Future," by Christopher David Cheng (Middlebury Institute of International Studies at Monterey, December 19, 2006).