I would like to take the opportunity to tell the tale of my great grandfather who traveled from Japan to Cuba, via Mexico, and established two generations of Japanese Cubans. My family ran a successful ice cream business and was very happy living in Cuba. However, when the Revolution came in 1959, my family lost everything and in 1966 it was decided by the family elders that everyone would leave Cuba for the United States of America. My godfather, Hector (Makoto) Matsumoto was the first member of my family to arrive in the United States in 1962 under Operation Peter Pan. The United States agreed to allow around 15,000 Cuban children under the age of fifteen to come unaccompanied to the United States to escape Communist Cuba. No one from my family is in Cuba, the only remnants of their existence is through the memories of family friends still living in Cuba today, and this narrative of my family's story.

1906—Kumamoto, Japan to Veracruz, Mexico
Hanjiro Yoshimura was an 18 year old boy from Kumamoto, Japan when he decided to leave his home in Japan for Veracruz, Mexico. He had no formal education, and was from a poor, country family. At the time, there was no formal public education system, but Hanjiro was a very smart and clever individual. Eventually he would build homes, make his own clothes, and deliver his six children—all without an education.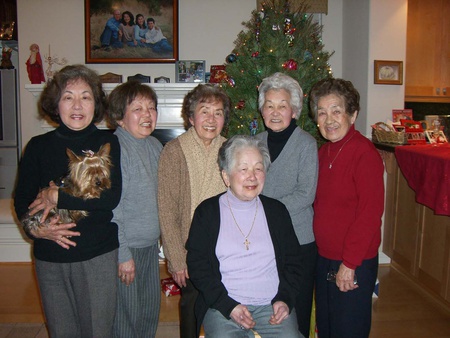 Hanjiro was the oldest son of the Yoshimura family, and was to inherit the family farm, but he did not want the responsibility and left Japan in search of a more interesting life. His mother died when he was very young, and his father remarried a woman who Hanjiro did not like very much.
He had a Japanese friend in Veracruz, Mexico who he went to see and picked up a job working as a clerk at a local grocery store. It was at this point where Hanjiro began to learn the Spanish language. It was a strange experience being a Japanese man living in Mexico as there were not many Japanese living in Mexico at the time. However, in 1906 many Japanese had immigrated to Peru and Brazil in search of work to better their lives.
A Mexican woman wanted to marry Hanjiro, but he would have none of it as he was not looking to get married at the time. He also had the grandiose idea that all Mexican women swooned over him. He probably thought since there weren't many Japanese, yet alone Asians, that living in Veracruz would make him something of a novelty to the local women.
Hanjiro did not really enjoy his time in Mexico, mostly because he thought there were a lot of thieves, something he was not used to in Japan. Many people deeply feared Pancho Villa, the Mexican rebel general who led incursions into the United States during the Mexican Revolution which spanned from 1910-1920. Pancho Villa was also viewed as a national hero to many Mexicans for stabilizing the government during this tumultuous time. Regardless, Hanjiro feared Pancho Villa even though he posed no threat to Pancho Villa. He wasn't fighting for or against Pancho Villa, Hanjiro just wanted to work and make money. For one thing, Hanjiro did not leave Japan in the hopes of being thrown into a civil war in a foreign country. It was only a matter of time before he left to discover another country with potential.

Veracruz, Mexico to Havana, Cuba
Around 1918, Hanjiro decided to move to Havana, Cuba to work at a coal factory making charcoal. From here he went to Camagüey and Jatibonico in central Cuba. Back when he was in Japan as an 18 year old, Hanjiro met a family acquaintance and said to her, "one of these days I'm going to marry you. I will be married to you." This girl was Tsuma Matumoto. Once Hanjiro arrived in Jatibonico he sent for his arranged wife. Hanjiro found work in a sugar cane factory in Jatibonico and lived on the sugar cane grounds. At the time, Cuba's primary export was sugar, which was good for laborers in the sugar industry.
Hanjiro then started his own company doing brick and roof tiling work. He did this for a few years, and during this time he started his family. He built a small wooden house which naturally had a roof of Spanish tiles since he had done roofing work with Spanish tiles in Cuba. There were only two or three rooms, and no electricity at first, although later on there was power in the house. Running water was not initially available, but was added on later as well. There was one bathroom, which was similar to an outhouse. The family owned one cow and two horses from which they utilized for milk and transport, respectively.
He had six daughters, Alicia (born March 21, 1919), Josefa (July 17, 1921), Ramona (September 28, 1923), Aurora (March 21, 1926), Obdulia (July 7, 1928), and Luisa (December 4, 1931). They all had Japanese names as well: Hatsue, Sizue, Hisae, Yoshie, Chieko, and Sumie, but being born in Cuba they went by their Spanish names. Alicia was the first born in the family, and the first of six girls.
Hanjiro (known as Papa Abuelo when he had grandchildren) started a new job working on the Carretera Central (Central Highway) which ran from Santiago de Cuba (Oriente Province) to Camagüey to Las Villas. Papa Abuelo did this for three years, and after he finished the highway work, he decided to start his own business. He purchased two buses which went back and forth between Camagüey and Cienfuegos. This company was called La Flecha de Oro, or the Golden Arrow.
When Alicia turned eighteen, she married Kenkichi (Mario) Matsumoto. Mario came from Japan to Jatibonico by boat in search of a better life. Mario was also from Kumamoto, Japan, but did not know Hanjiro or the Yoshimura family. Mario met Alicia at a verbena (social gathering) where all the Japanese Cubans would meet for food and drinks.
Alicia made her own dresses, and at these verbenas Cuban fashion was the norm. The women would normally wear a very conservative, short sleeve, cotton one-piece dress, some had flower patterns on solid reds or blues. However, white was very popular at the time. Also, since it was normally hot and humid in Cuba, white cotton was the best material to wear in order to stay cool. The verbenas only occurred 2-3 times per year, so when they happened, everyone made sure it was a great party. There was, of course, plenty of Cuban music.
During the 1930s, there were some very popular dance styles. One was called the danzón, which was more smooth and suave, and then there was the danzoneta, which involved a little more movement, and usually reserved for younger people. The rumba was also very popular. Alicia and her sister Josefa enjoyed dancing and drinking into the night with great music and company. Going to verbenas were a great memory for many of the Japanese Cubans.
Alicia and Mario mostly ate Cuban food, as did the rest of the family and other Japanese living in Cuba at the time. They did not have Japanese ingredients, but sometime the food was mixed. When Tsuma would make Cuban bistec, a thinly sliced top sirloin steak with grilled onions, Mario would make a teriyaki sauce by combining soy sauce and sugar. There were many Chinese in Cuba at the time, many more than the Japanese, and therefore many Chinese ingredients were available for purchase.
Alicia liked to drink Cervezatüey beer, a drink from the same company as another Cuban drink called Matatüey, which you can get in the United States in specialty stores. Many Japanese men liked Bacardi Rum shots (called tragos). Another popular Cuban drink was guarapo, made by extracting sugar with a trapiche, a manual sugar cane extractor with a crank wheel to feed the cane in, and then adding lime or pineapple juice. Guarapo is a fairly common drink in the Latin American world, with a very light, not-too-sweet flavor.
After Alicia and Mario got married they had one daughter, Nancy, born September 6, 1939. They then moved to Santa Clara in Las Villas province and opened an ice cream business. They sold ice cream directly out of the shop, but a key method of sales was in carts loaded with their ice cream on the streets. They hired four Japanese people to man the carts. They had other Japanese families helping in other cities: Santi Espiritu—Tsuchiya; Jatibonico—Sakata, Yamaguchi, Kobayashi, Karasawa, Matayoshi, and Ija; Ciego de Avila—Kosaka, Nokano; Cienfuegos—Okata.
* This article is an excerpt from the master's research project, "Japanese Cubans: Past, Present, and Future," by Christopher David Cheng (Middlebury Institute of International Studies at Monterey, December 19, 2006).