Daniel camina por Miraflores con los ojos protegidos por lunas oscuras. Es invierno en Lima y su mirada no aparece hasta que entramos en una cafetería donde pide un té chai. Si tuvieran que escribir una definición de él debajo de su nombre en el vaso descartable diría videasta en lugar de fotógrafo, la profesión que le ha merecido diversos premios y publicaciones en medios de América y Europa.
Daniel Silva Yoshisato (Lima, 1975) ha encontrado otra identidad en la imagen en movimiento desde que empezara a hacer videos por encargo y proyectos personales con los que no esperaba recibir remuneración. Ahora esa especialidad ya le ayuda a pagar las cuentas y está abriendo una nueva perspectiva en su trabajo de creador.
Descubrir otra forma de contar los hechos además de la noticia le ha dado un giro a una carrera que lo ha llevado a viajar por parajes turísticos e inhóspitos, a formar su propia empresa, a hacer fotografía para cine y a buscar nuevos lenguajes detrás del lente de una cámara. "Todo te va construyendo un camino", dice mientras evoca los primeros episodios como fotoperiodista.


Mirar la noticia
Cuenta que se inició practicando en el diario Perú Shimpo, que llamó y se ofreció como colaborador porque ya estaba en los últimos años de la carrera de Ciencias de la Comunicación en la Universidad de San Martín de Porres y no tenía experiencia. Allí la ganó de golpe. "En el diario, los redactores eran también fotógrafos, así que hice las dos cosas".
Estuvo seis meses antes de ingresar, en 2000, a El Comercio, donde creció como fotoperiodista y formó esa mirada de la realidad que pudo presenciar hechos como el terrible incendio del centro comercial Mesa Redonda, en 2001 (con el que ganó el Premio Nacional de Fotografía Eugene Courret, al año siguiente); o realidades insólitas como la de una aldea cusqueña donde las campesinas juegan fútbol en sandalias.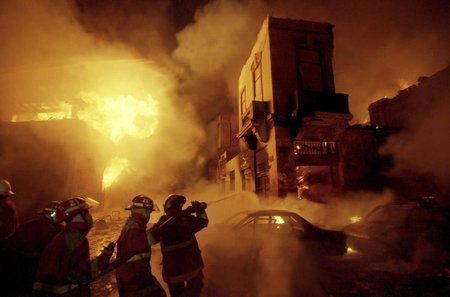 Este reportaje le valió el premio Visa Pour L'Image 2004, de Francia, y el World Press Photo 2005 en la categoría Deportes. Atestiguar los contrastes que se dan en el Perú casi de forma simultánea (la belleza de la selva peruana y la contaminación minera que la destruye) se sumaron a las imágenes que ha ido acumulando en un portafolio exhibido junto a reportajes y crónicas sobre peces gigantes, exitosos chefs peruanos y nativos no contactados.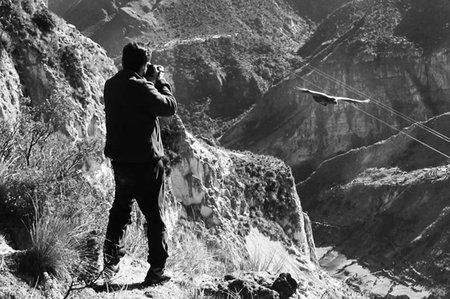 El ojo entrenado
Las fotografías de Silva han sido incluidas en medios y publicaciones prestigiosas como las agencias France Presse y Reuters; los periódicos Le Monde (Francia), Der Spiegel (Alemania) y El País (España); y las revistas Time, Esquire, Etiqueta Negra y National Geographic, entre muchas otras. Entrenar el ojo ha sido una aventura en la que solo suele figurar con su crédito al pie de cada imagen.
Observar oculto y en silencio ha sido parte de su estrategia nacida del periodismo, donde el reportero intenta pasar desapercibido mientras ocurre la noticia. Con ese mismo espíritu, Daniel intenta ahora capturar a sus personajes en filmaciones que hace siguiendo esa escuela de testigo paciente y atento a la espontaneidad.
Sus primeros videos fueron encargos de Promperú, la agencia de promoción del turismo que lo contrató para mostrar la experiencia de visitantes asiáticos en Lima y Cusco. El cortometraje tiene el encanto del viaje compartido entre amigos y el tratamiento fotográfico de quien cuida tanto la historia como la calidad de cada imagen. Sus siguientes videos muestran el rumbo que está tomando con la práctica.


Una mirada personal
"Si me quedaba esperando que alguien me llamara no hubiera hecho nada", dice Daniel, quien antes de mostrarme su faceta audiovisual en una laptop, me cuenta que pasó dos años viviendo en Trujillo, donde fotografió a los pescadores que usan caballitos de totora para pescar en la playa Huanchaco, como lo hacían los antiguos peruanos. "Era como estar ante un museo vivo".
Le cautivaron tanto esas embarcaciones artesanales que empezó a grabarlos para contar sus vidas, tan llenas de tradición como de tragedia. "Son personas afectadas por la contaminación que cada vez deja menos recursos en el mar", dice Daniel. Así nació "El último señor del océano" (2015)1, su primer cortometraje personal, un proyecto que empezó solo y al que se le sumaron dos amigos para la música y la edición.
La historia de este pescador descendiente de los mochicas se exhibió en el Festival de Cine de Lima y la fotografía de Daniel Silva ganó el premio Picture of the Year (POY) Latinoamérica, en la categoría Vida Cotidiana. "Fue una señal de que algo bueno estaba haciendo", dice él mientras me presta sus audífonos para darme un adelanto de su último trabajo.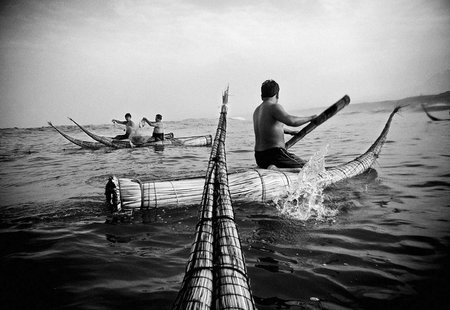 Del algodón a las nubes
Del segundo video que hizo para Promperú sobre la cadena algodonera y la industria textil peruana, donde muestra todo el proceso de esta actividad, a "París Lumière" hay apenas dos años en los que Silva Yoshisato (como firma su segundo trabajo personal) ha desafiado su propia forma de contar historias. El primero es una combinación de periodismo cine y publicidad muy conmovedor.
El segundo es una arriesgada forma de volver a ver lo que muchos han visto: París. "¿Cómo mostrar un ángulo distinto y atemporal de una de las ciudades quizás más fotografiadas del mundo?", se pregunta el videasta. En los últimos años, Daniel viajó varias veces a Francia y decidió contar su vida cotidiana inspirándose en la pintura y el trazo de los dibujos a carboncillo.
"París Lumière" es un ensayo fotográfico y audiovisual que aún no termina y que lo ha llevado a desarrollar una técnica (de imágenes sobreexpuestas, tan iluminadas que parecen tomadas entre las nubes) que insinúa a la ciudad y sus habitantes. "Me gustaría que se exhibiera allá", confiesa contándome que otro de los proyectos que siempre tiene en mente es conocer Japón, el país de sus ancestros.


Un sueño, un precio
Daniel tiene poco más de 40 años pero aún parece un joven lleno de sueños que mira al cielo buscando las estrellas. Nada más lejos de la realidad. Cuando en 2012 fundó la editorial Cometa con el cronista Marco Avilés, descubrió que formar tu propia empresa no te acerca a las nubes, como lo pintan las historias de éxito de emprendedores, así le pongas el nombre de un juguete que vuela.
Planificación, conseguir clientes y desarrollar una propuesta de valor (que es combinar las técnicas del fotoperiodismo para tener contenidos que comuniquen una marca) fueron los términos más terrestres cono los que tuvo que lidiar. "Cuando era fotógrafo en El Comercio había personas que se encargaban de todos los temas administrativos. Cuando empecé a trabajar como free lance y con Cometa me di cuenta de las responsabilidades que había que asumir".
Cometa fue un proyecto que le permitió trabajar con Wayra Perú, aceleradora de startups, gracias a la cual desarrollaron diversos contenidos (entre ellos, videos) y que le mostró las herramientas con las cuales afronta ahora cualquier trabajo. Un proyecto, explica Daniel, tiene que estar entre lo que quieres hacer y lo que busca el cliente, ofreciendo una propuesta que sea interesante y rentable.
Daniel recibe una llamada telefónica. Su sueño de trabajar haciendo lo que le gusta lo mantiene joven y ocupado. En zapatillas pero con la laptop a cuestas. Haciendo trabajo con varias marcas en fotografía y audiovisuales, para clientes y otros proyectos (inclusive de cine). Cada uno a imagen y semejanza de su identidad como fotoperiodista y creador.
Notas:
1. https://vimeo.com/125991906 (inglés).