Do you know who Pat Suzuki is, and why she is significant to Japanese Americans? I suspect you would have to be at least as old as me (a Sansei born in the early 1950s) to recognize her name and know that she was a popular singer. Any Nisei would know instantly who she was and why she was important. In fact, my sense of Pat Suzuki is based almost entirely on the feeling I got from my aunt when I was growing up.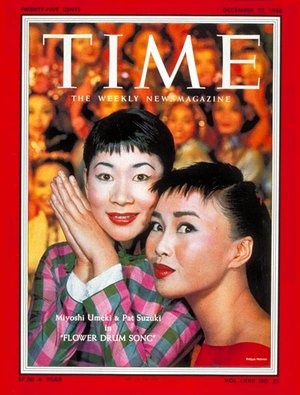 For the record, Chiyoko "Pat" Suzuki was, indeed, a singer who recorded four albums for RCA Victor; starred in the Rodgers and Hammerstein original Broadway musical, Flower Drum Song; and was featured on the cover of Time magazine in 1958. Born and raised in Cressey, California (one of the farming colonies organized by Kyutaro Abiko), Suzuki and her family were among the thousands of Japanese Americans forced by the government to leave their homes and businesses to be incarcerated in a concentration camp in Granada, Colorado, during World War II. That she was able to rise to such mainstream entertainment success was a source of pride for the Nikkei community, which was still recovering from the devastating effects of the government's unconstitutional treatment during the war and from society's overt prejudice against Japanese Americans in general.
My Aunt Chieko was the one in the family who loved music and loved the movies. Even as a young boy, I could tell she had a special fondness for Suzuki. I'm sure some of it stemmed from the fact that Pat and her family were held in the same camp as my family during the war. Imagine being among those falsely accused of disloyalty to your country and being locked up for years in a desolate prison, and then, years later, seeing someone who was held in the same camp rise to the top. I would guess that if 1942 was filled with fear and despair, then 1958 would have provided hope for Japanese Americans that it was possible to succeed.
Suzuki's story does seem like the prototypical American underdog tale. A young farm girl attends college (first Mills College and then San Jose State) and, with only her performing experience at her Methodist church, begins singing in small nightclubs on weekends. Looking for opportunities, she moves to New York and, on a dare, she auditions for the traveling company of the play, Teahouse of the August Moon and wins a part. Pat winds up in Seattle, where she works for three years at a club called the Colony. Legend has it that Bing Crosby saw one of her performances and was instrumental in helping Suzuki land a recording contract with RCA Victor. Her first album, Miss Pony Tail, is released in 1958 and features standard songs like "Star Dust" and "As Time Goes By." Suzuki also begins to make appearances on live television shows starring Dinah Shore, Dick Clark, Frank Sinatra, and Jack Paar (The Tonight Show).
All of that leads to her being offered the role of Linda Low in Flower Drum Song in late 1958. The show, based roughly on C.Y. Lee's novel, features Suzuki as a night club singer in San Francisco's Chinatown, who is very Americanized in contrast to the other female lead (played by Japanese actress Miyoshi Umeki) who is a brand new immigrant. Suzuki stops the show with the song, "I Enjoy Being A Girl" and "Flower Drum Song" runs for over 600 performances on Broadway. Suzuki and Umeki were on the cover of Time magazine that same year, which must have been a first for a Japanese American.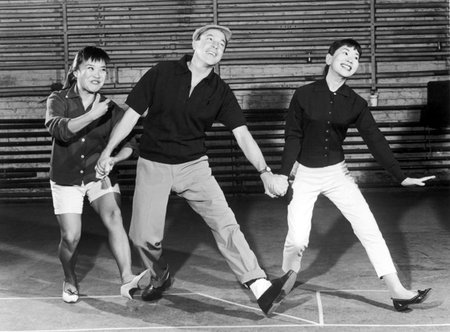 While Suzuki recorded three more albums (The Many Sides of Pat Suzuki (1959), Pat Suzuki's Broadway '59 (1959) and Looking at You (1960) along with the release of the original Broadway cast for Flower Drum Song) and she continued to make appearances on television (Red Skelton, Mike Douglas, What's My Line), she was not cast in the movie version of Flower Drum Song. Which I think is one of the major factors why younger generations have no idea or only a vague notion of who Pat Suzuki is.
I have heard a couple of reasons why Suzuki was not cast in the movie version, even though she clearly was a big hit in the stage version. One, Suzuki married Life magazine photographer Mark Shaw (who was also the official photographer of the Kennedy White House), and she was pregnant with her son when the film was in production. Two, actress Nancy Kwan, who was cast to play Linda Low for the film, even though she was not a singer, had become extremely famous after her starring role in The World of Suzie Wong opposite William Holden. Suzuki was famous, but had never made a movie, while Kwan had become a known film commodity. As with Audrey Hepburn, who was cast as the lead in My Fair Lady instead of Broadway star Julie Andrews, Kwan was cast over Suzuki. Her singing was dubbed by B.J. Baker, but because of her ballet training, she was able to stylishly handle the dance numbers.
(Odd sidebar: if the movie had featured Suzuki instead of Kwan, the four leads for this Chinese American story would have all been Nikkei—James Shigeta, Umeki, Suzuki, and Jack Soo, who most people know was born Goro Suzuki—no relation to Pat.)
Why is Suzuki's omission so impactful? Because Suzuki's 600 performances on Broadway are memorable only to those who attended them, but a movie can be seen over and over again, probably forever, with DVDs, streaming and movie channels like AMC and TMC. I remember as a youngster going to see a stage production of Flower Drum Song locally. It was "in the round" which meant the stage was in the center of the room and the audience was seated on all sides. Actors went on and off stage through the aisles. Anyway, this was over 50 years ago and while I vaguely remember the production and the music, I am not clear which actors performed. In my head, I recall Pat Suzuki was part of the traveling company, but, today, I can find no record that she went on tour. Only Soo, Keye Luke, Juanita Hall, and Kenney were part of the original cast that toured. I thought our family went because Auntie Chi LOVED Pat Suzuki. But who knows? The point is, if it were on tape, I could see it again and clear up my memory. And younger people could see what a stage production of the show actually looked like and what sort of a performer Suzuki was in her prime.
Looking at Suzuki's resume, she mostly remained active as a live performer and appeared in very few films. In 1975, she was part of the cast, along with George Takei, in the New York stage production of Frank Chin's play, Year of the Dragon. Pat had the misfortune (in my opinion) to be a regular on the not-very-funny situation comedy, Mr. T and Tina, which starred Pat Morita in 1976. Suzuki played Morita's crazy aunt, but I think the show only lasted a little more than a month. Other than a Charlie's Angels episode in 1977, you would be hard-pressed to see Pat on film in anything.
So, part of why our consciousness of Pat Suzuki has waned so much is she did not appear in something iconic and long lasting. Pat Morita will always be remembered for his role of Mr. Miyagi in The Karate Kid. Interestingly, Shigeta, who recently passed, is not necessarily remembered for his early film work (including at least one Elvis Presley movie). When Shigeta died, I saw a reference online that said, Die Hard Actor Dies. Shigeta, of course, played the doomed Japanese executive, Mr. Takagi, in the classic Bruce Willis' thriller.
(Quick JA trivia: Shigeta's character had been, according to the film's villain, Hans Gruber, incarcerated in Manzanar during World War II. That was the first real reference to the camps in a big-budget film I had ever heard and it was sort of a throwaway line, but it made me sit up in my seat when I heard it.)
But, back to Suzuki, I think the other reason she has receded from the limelight is her own personal choices. In the 1990s, I was excited because I had learned she was appearing in a staging of another Rodgers and Hammerstein musical, South Pacific, in Long Beach. Suzuki was cast as Bloody Mary. I thought that this was my chance to make contact with her and ask questions about Bing Crosby, Gene Kelly (who directed Flower Drum Song on Broadway) and what it was like to be on the cover of Time magazine.
What I found when I went to interview her for The Rafu Shimpo is that she was very nice and charming, but absolutely elusive about her personal life. She relentlessly refused to answer any of my specific questions, especially about that part of her life when she was most famous. I was able to write a story about what it was like to appear in this show. But it was clear that Suzuki was not comfortable opening her private life to the press, a characteristic that is understandable, but a barrier to maintaining a public awareness of her professional existence.
Add to that the difference in working on stage and in films and television. I remember watching her onstage in South Pacific and understanding that Suzuki was really born to be a live stage performer. She had that quality that makes you watch someone attentively in a play or a musical that people like Ethel Merman and Mary Martin had. Pat was not even five-feet tall, but on stage, she could be big. Sitting in the last seat in the balcony, you could enjoy Pat Suzuki's performance. That quality does not always translate to film or television, which relies on close-ups and editing.
I saw Pat a few years later when she agreed to appear at the Japanese American National Museum's 1995 annual dinner held at the Los Angeles Convention Center. This was the tribute to Japanese American World War II veterans and Suzuki had agreed to sing. The two things I remember from that experience is that I needed my wife Qris Yamashita to help transport Pat back to her hotel after rehearsal so she could change. My wife being my wife, she made musubi and other Japanese food for Pat to snack on. Needless to say, that was a big hit. (FYI, Qris has done this with other VIPs include Secretary Norman Mineta, who loves my wife's musubi.) The other was observing Pat right before she went on stage. She literally was firing herself up. She was like an athlete getting pumped up for the big game. She seemed almost angry and I realized that this was how Pat Suzuki got herself emotionally ready to perform at her peak. That is how she made it from Cressey to Broadway.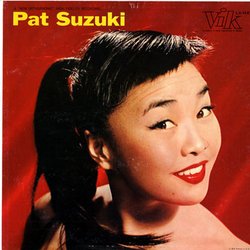 In retrospect, I also think that getting fired up for countless appearances on stage and nightclubs would require an enormous amount of emotional energy that would be thoroughly exhausting. Suzuki had a condensed period from 1957 to 1960 where she was at her professional peak in terms of fame and fortune. Maybe that was enough for her in terms of the price one has to pay for success. Maybe the life she chose as a mother and nightclub singer was plenty for her. She is not really famous today and that is okay with her.
There is one way people today can gain a greater appreciation of the talents of Pat Suzuki. She did record four albums and a compilation of her best songs, The Very Best of Pat Suzuki, came out in 1999. Most of this material is accessible online along with a few performances on YouTube. But if you want to just dip your toe in the water, try this: the next time the Matthew Broderick film, Biloxi Blues, is on cable, watch the opening scene. There is music playing. It is Pat Suzuki singing "How High The Moon." Listen to that song so you'll know why we should not forget Pat Suzuki.