Discovering a new world by diving into materials

It was 1980 when Haruko Takeichi, an interior designer at a designing studio run by her husband in Alhambra, California, entered the Sōgetsu school of Ikebana. Drawn by the refreshing use of live flowers in designing, she has since been involved in both Sōgetsu and her interior designing work for 28 years.
After receiving her license to teach as a grandmaster, she promptly began teaching in both Japanese and English. "In any country, most of the people who want to learn ikebana seem to be studying something related to art. Ceramics, painting, architecture, so on and so forth... but it doesn't mean that they can begin to freely arrange flowers right away. They must first take a fundamentals course to build a solid foundation. During that time, there are some who, upon finding out that there are set limitations in angles of arrangements, try to resist these fundamentals, claiming that 'Sōgetsu is supposed to be free-style! This isn't Sōgetsu!' However, in about their third year after completing the fundamentals, their form of expression becomes freed. Some show extreme growth at this time. On the other hand, with rules and boundaries suddenly gone, some say that their minds go completely blank, and are at a loss of what they should do. I think both the difficulty and enjoyment of Sōgetsu lies in arranging the flowers as a means of self-expression."
Indeed, the works of Takeichi-san are so daring and original, it makes one question whether it is okay to arrange as freely as she does. A combination of a metal frame and a flower, a large gathering of bamboo coupled with cherry blossoms… there are no such materials that are off-limits in Sōgetsu.
"For example, you probably wouldn't cut a cycas revoluta when using it in regular ikebana, and use it as is. However, the Sōgetsu style constantly pursues variations in the usage of materials. You are free to chop away the stump of the cycas revoluta, or wrap its leaves around it. It's also okay to add color to the natural material. By diving deeper into the world of materials, it allows you to discover a whole new world. You can give birth to so many possibilities by keeping your ideas flexible. I think this makes me believe that there is no art form more creative than [Sōgetsu]."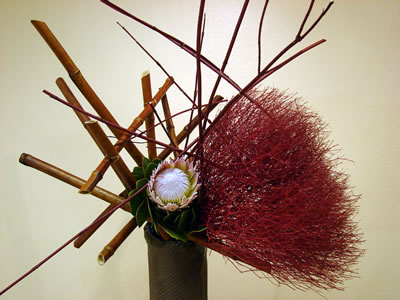 From Nisei Queen Candidates to retirement home tenants
As the years have passed as a grandmaster of Sōgetsu, Takeichi-san's field of activity has broadened. For example, her class at the Keiro Retirement Home in Boyle Heights—she teaches Sōgetsu as a volunteer for the retired Nikkei tenants. "We chat while sipping tea after class. Just by hearing the stories of their amazing experiences, I feel like I'm actually the one that is learning."
Since six years ago, she has been teaching ikebana to Nisei Week Queen candidates as part of a Japanese cultural experience course. "For the young ladies who have yet to find out much about Japanese culture, I guide them with focus for a short period of time. They do try really hard, but unfortunately this is the only time they will learn [ikebana]. Hopefully one day, when they've settled down and have time, they will think, 'I want to learn ikebana again.' That would make me happy."
In 2005, she started teaching at a Tibetan meditation center in Eagle Rock, with its members as her students. With these American pacifists who closely follow the Dalai Lama's teachings, she meditates for 15 minutes before beginning class. "They are really dedicated. They're also all very polite, and they show their respect before entering the hall, and bow in front of the altar. Respect is also important in flower arrangement. You cannot forget respect for the person arranging next to you, respect for your instructor, and of course the feeling of respect towards the flowers. The students here strongly hold these feelings and beliefs deep in their hearts."
In 2008 she also began teaching at the Irvine Fine Arts Center. The center is renowned for its dedication to artistic classes, and aside from ikebana, there are excellent classes for ceramics, photography, jewelry-making and more. Takeichi-san herself holds an exhibition of her ikebana and ceramic works here, every year.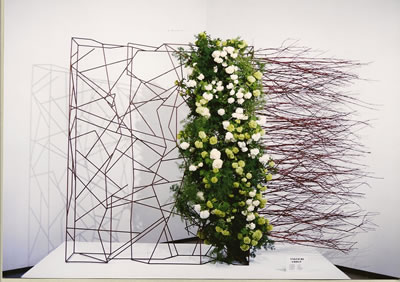 In front of the flowers, everyone is free and equal — Pursuing ikebana as 'life work'
Demonstrations are effective in gathering the attention of American eyes. "From birthday parties to fundraising parties, I get invitations to events at which people gather. The other day, when I performed a demonstration at a party in Old Pasadena, people would call it 'a form of entertainment I've never seen,' and would be very happy with the demonstration."
"Demonstrations are not only performed for event openings—I also think it is a great way to attract the interest of Nisei Queen [candidates]. In America, it seems that there are more opportunities to perform demonstrations that incorporate movement, rather than just quietly facing up and observing finished works."
"I have a lot of different students—an American man who loves Japanese culture and plays taiko, a man who migrated from Palestine… regardless of age, sex, or cultural background, when we begin learning ikebana, we all begin at the same staring line. It is equal, and can be expressed freely. That is why my students are always so lively. A ring of people surround the flowers. I, myself, receive so much energy from everybody else. There will come a time when I retire from interior designing, but there is no end for ikebana. I will continue on with it as my 'life work'."
When she can put all of her energy into the flowers, her abilities are sure to blossom again—sure to reach an even higher level. The possibilities are limitless.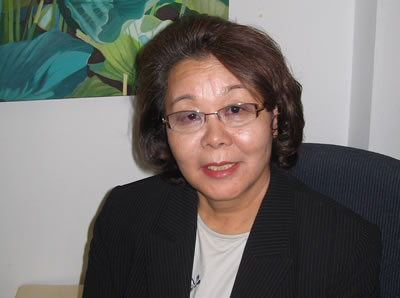 Haruko Takeichi profile:
After graduating from an all-female arts college, Haruko Takeichi moved to the U.S. upon marriage in 1968. She entered the Sōgetsu school under Okinaka Synyo in 1980. Takeichi received the first-degree grandmaster qualification for the Sōgetsu style in 1989 and began teaching in Santa Ana and Los Angeles. In 2007, she received the Special Award for Overseas Instructor from Sōgetsu headquarters. She holds the highest rank of "Rigi" in ikebana. Takeichi currently works as an interior designer.