Dear Reader:
When did you decide to become "Japanese Canadian" and did that choice come at a cost?
For me, it was when I realized that despite being immersed in a white community, I was not a full member and that my position in it was always qualified and defined by a persistent 'otherness,' that stereotype that even my most well intentioned friends can't seem to see beyond. It's always the same asinine comments about Japanese culture, baseball, or sushi. This Japanese Canadian (JC) stuff is about being pushed to the edges. White western fetishism with "Japan" has always gotten in the way of the more important discussion for us Japanese Canadians: what does being JC mean? It is critically important that we do this for ourselves or else, as they are already starting to do, institutions will do it for us.
Now, rereading Lillian's personal story about her evolution to become a JC artist then, I am amused by the similarities and differences of our experiences. Gender is the most telling difference. Of course, beginning with Puccini's opera Madame Butterfly, the geisha stereotype has been sought after by westerners ever since. Personally, even before going to Japan, I never thought of the women as being particularly attractive. On the other side, interestingly, what kind of stereotypes do we JC guys evoke? Got a picture? Not very sexy, is it?
Good art needs to be bare bones, in a sense: No pretense. Stripped down to essence, with the breath of the artist's creative magic to bring it to life. The doing of it is the best sort of psychotherapy; contemplation of the art too is good for the soul.
So, I met artist/retired teacher Lillian Michiko Blakey at the Royal Ontario Museum's "Being Japanese Canadian" exhibition. She was kind enough to show me around. Afterwards, when I asked her to make a school presentation during Asian Heritage Month, she didn't hesitate. Sharing her moving family story in hand drawn pictures she also told her family's story of immigration, dealing with racism in British Columbia, our Mississippi, with an eloquence and power that gripped the attention of 120 or so mostly Indian grade 5 kids and teachers. There was a pause then she invited questions and comments. Most were thoughtful questions about racism and how that affected Lillian both as a JC and artist.
Then, as we were wrapping up, one Punjabi boy quietly raised his hand and shared that he was born in Surrey, BC and, with some feeling, called the presentation "inspiring".
* * * * *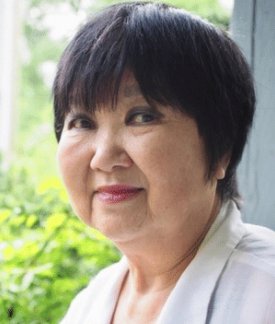 I am Lillian. My middle name is Michiko, a Japanese name which means "child of the celestial path of God". I like that. Secretly, it makes me feel special, as if I were born to do something great. I think names are important, especially lofty ones which make you want to be the best you can be.
However, when I was growing up, I felt torn and ashamed because I didn't want anyone to know that I had a name which wasn't English, especially a Japanese name. Things happened to us in World War II, which made me feel ashamed of who I was, even though I had done nothing wrong.
I am a third generation Canadian. The parents of both my mother and my father came from Japan over 100 years ago, to find a better life here. They became Canadian citizens. I may look Japanese, but I'm definitely not Japanese. I have never been to Japan and I can't speak Japanese, even though Japanese was my first language. I can speak only English. There's no doubt that I am a Canadian. I was born in Canada, as were both of my parents.
I always knew that I would be an artist, even as a small child growing up in Alberta, after my family were forcibly relocated to work the endless sugar beet fields. Perhaps because my sister and I were left in the shade of the old Model A Ford at the edge of the 10-acre field while my parents worked in the blistering heat and we had to find ways of amusing ourselves.
At that time, Planters Peanuts offered colouring books of Mr. Peanut travelling the world and I was mesmerized by the magic of foreign lands and my imagination ran wild. That was my first experience of a wonderful world outside the Alberta beet field. Perhaps that is why I have searched for a better world for all people, regardless of colour, race, or heritage, throughout my life.
When we moved to Toronto, I became obsessed with horses when a little red-haired girl from Prince Edward Island introduced me to the wild ponies on Chincoteague Island and the books of Margaret Henry. I drew pictures of them exclusively. My grade three teacher was a sour, strict woman, but she recognized my talent and allowed me to stay in at recess to paint all the breeds of horses and mount them on a display board. My first exhibition! My later life with horses!
In the sixties, the emphasis was completely on an academic curriculum so we had no art in high school. But several instructors at the Ontario College of Art (now OCAD University) offered Saturday morning classes for students recommended by their schools, from each of the High Schools in Toronto, free of charge. Another Japanese Canadian friend from my school was also recommended. I was in the program for the two years it ran. The experience turned my life around and I knew that art was my life.
When I graduated from high school, my father refused to allow me to go to an art school and insisted that I be the first person in our family to go to University. He did not care what I studied as long as I ended up with a University degree. So, I enrolled in the first Fine Art Program at the University of Toronto. The emphasis was on the development of western art and there was an unspoken bias that Asian art was not really art, even though there was a course in Far Eastern Studies. Needless to say, I did not enroll in that course, taking a contemporary sculpture course instead. My Japanese Canadian friend from high school, who was also in Fine Art with me, took the course in Far Eastern Studies. A wise move on her part!
The third generation, my generation, the Sansei, grew up denying all things Japanese, especially the image of buck-toothed, slant-eyed 'yellow peril' in the plethora of war movies in the fifties. I rooted for the American GIs and hated the Japanese. Boys at school wanted to date me because they thought that I was like the geisha girl in the movie, Teahouse of the August Moon. I didn't mind that so much as she was beautiful and cultured. That was one of the first films that had mixed race love stories. It validated my belief that I should marry for love. I was so romantic at that time.
So, I denied who I was and turned my back on anything Japanese. I dated only white boys because I wanted to be chosen over white girls. Secretly I wanted to be the "geisha" in the movies, adored romantically by handsome American GIs. I vowed that I would never marry a Japanese man.
The story of my family's forced removal from the west coast and relocation to hard labour in the Prairie provinces, was my dark dreadful secret for decades. I simply erased that part of my story because it made me feel less Canadian. I grew up wanting to be like mainstream white Canada. I was ashamed of my own people and I distanced myself from them. I remember the day I decided to stop speaking Japanese at home. I was six years old.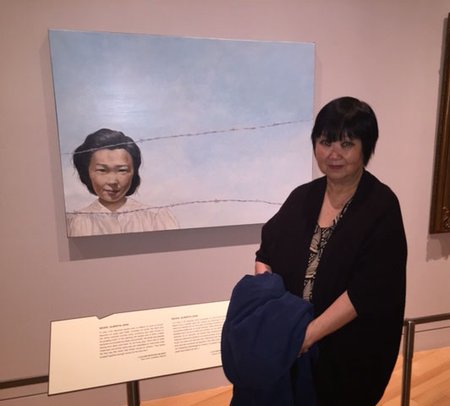 I began a career in teaching as an art teacher in high school but married a hakujin teacher in the same school soon after and had twin daughters. During that time when my daughters were toddlers, my friend from Fine Art was involved in the Japanese Canadian Cultural Centre. Every fall, the Centre held an art/craft exhibition and sale called "artisan". She invited me to take a table.
As an artist, I could not resist the temptation. Ordinarily, I would never have agreed to create craft instead of art. But I thought to myself, "This is not your everyday craft show. After all, the surroundings are truly a work of art. It is certainly not your church basement craftsy show." What a terrible snob I was to distinguish between art and craft. I now realize that my vision was clouded partly by the brainwashing of the institutionalized Western philosophy of art education which I had received at university. I also now realize, upon reflection, that this philosophy also casts doubt on the validity of all art forms which are not in the Western tradition. It has taken me almost a half century of soul-searching to realize that the Western world of art always looks after its own and makes no room for the new kid on the block.
At the time, I felt a little odd about taking part in the show. My feelings were mixed as I became acutely aware that I was not one of "them". Inside, I had become white, and I felt very uncomfortable in the presence of other people of 'my' race. I was a closet racist. I had prided myself on the acceptance of other peoples' beliefs and values- people other than the Japanese, that is. Today, when I look back at myself, I am horrified at this totally insensitive me.
And so my art career was launched by this craft show, ironically launched by a Japanese Canadian group of artists. I decided to create "soft sculpture". They were really soft toys, but I called them soft sculpture, to elevate their status to the level of art. I threw myself into my work, sewing frantically eight hours a day in between running after my precocious twin daughters. When they did sleep, they usually did so for four hours at a stretch. I created art as if I were possessed by a demon. In one month, I designed and sewed 80 pieces, each one unique, each one a work of art.
A few days before the show, suddenly I thought I would like to create a real art piece, an appliqued Wall hanging, which would form an eye-catching backdrop to my display of soft sculptures. In a fit of inspiration, I was transported into a fantasy world of underwater splendor in a spontaneous, flowing design filled with movement and vibrant blues, purples, and greens. At that time, I had no idea this wall hanging would change my life.
As I was sitting by my display, a very chic woman in an immaculate cream color suit, dark glasses and a hat which was tilted precisely at the right angle to give an air of mystery, approached me. She glanced at me and surreptitiously handed me her card. Evans Gallery 123 Scollard Street Toronto, Ruth Levinson, Director. Without a hint of a smile, she said, "I'm interested in your work. Do you do anything besides children's themes?"
I replied, "Yes, I don't usually do children's art. I did this only for the show."
"Good," she replied tersely. "Why don't you bring me some of your other work. I'm looking for a fabric artist. By the way, what name did you go by?"
I don't know why, but when she asked me, I had a moment of anxiety. What name should I give her? Instinctively, I knew that my professional name would be important. I blurted out "MICHI", short form of Michiko. I don't know why I said Michi or why I was reluctant to give her my married name. Perhaps subconsciously I did not want to be tied to my husband since our marriage was in trouble. What flashed to my mind was that none of my fine art friends would know who Michi Wise was and that it would be difficult to change a professional name after a reputation was established. I probably chose Michi because it is the sort of name that could be used by itself, with no surname, but Lillian, by itself would look stupid.
However, as time went on, I regretted my decision. Each time I had a show, people would stumble on the pronunciation and asked me what it meant. All I knew was that the literal translation of Michi was road, and ko meant Child; so I replied, "I guess that means child of the road." But in my mind this response always evoked connotations of being a street walker's child and I would feel a smart forming on my lips each time I was asked the question. In actual fact, I discovered a far more esoteric meaning much later. Michi is the way of the cosmos, not just a set of ethics for priests to live by, but the divine footprints of God pointing the way. I like this interpretation much better.