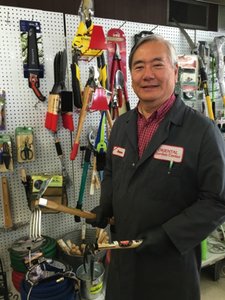 Man working in yard,
No woman watching nearby;
Is the man still wrong?
Following the theme of the haiku, today we visit a specialty gardening store in Federal Way. Having started as a Nisei business in 1960, the Oriental Garden Center came up as a topic for this scribe to check out through the monthly bonsai classes they have listed on the calendar page. The center is on Pacific Highway South (Highway 99), 15 minutes south of SeaTac airport.
On meeting current owner David Asahara and his wife, Barbara Mizoguchi-Asahara, I had one question: What do they have that would ...