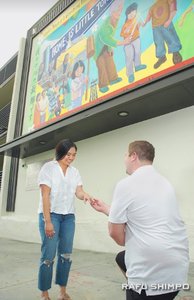 Auntie Nancy would be proud.
Little Tokyo has been through much in 2020, but last Saturday was a rare moment of celebration and joy in this most difficult year. Under the "Home Is Little Tokyo" Mural Matt Consalvi got down on one knee and asked his girlfriend, Marissa Hernandez, to be his wife.
"I have no words. I'm blown away," Marissa said, beaming, a diamond ring on her finger.
Family and friends, all wearing masks, were there to surprise the happy couple. In a special way, Nancy Kikuchi, who passed away in 2014 at 52, was there as well ...