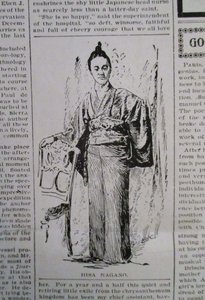 Hisa Nagano and Natsu Sakaki
In June 1886, Mary Clement Leavitt, the first representative of the worldwide missionaries of the WCTU, came to Japan. Leavitt gave lectures on a circuit from Tokyo to Nagasaki for six months and had an immense influence on Japanese Christians. 
Leavitt gave a lecture in Kyoto as well. Orramel Gulick of the American Board of Commissioners for Foreign Missions had introduced her to Hiromichi Kozaki, future president of Doshisha English School, and Kozaki became an adherent to the principle of temperance. "The work being done by Mrs. Leavitt in Kyoto will further ...