Mississauga — Why does my body do that? Why do we get déjà vu? Does birth order affect personality and intelligence? Sisters Angela and Claudia Tanabe take on the questions that we may be embarrassed to ask but have crossed our minds in The My Sister Knows Why Podcast.
The Tanabes started the podcast in July as something to do while being stuck at home during the pandemic. Every Friday, they ask a new question—about anything or everything. In each episode, one sister presents their research around a particular topic, trying to teach the other something new while inviting listeners to come along for the ride. The podcast was inspired by questions Claudia would ask Angela, often about the body or general science.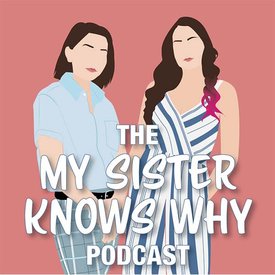 "I would always ask Angela questions of just random things that [I felt I] should know," Claudia tells Nikkei Voice in an interview. "And she would know most of the answers, and I just thought, well, if I have the question, then at least one other person out there has the same question."
However, the podcast is not just about Angela teaching Claudia science. Claudia also shares her knowledge on topics of technology, arts, and culture, and how they intersect. The Tanabes approach each question with curiosity and humour, covering topics from science, health, arts, entertainment to culture.
The podcast is a space for Angela and Claudia's different interests and educations to collide. Angela is a recent graduate from McMaster University with a degree in kinesiology, and Claudia is a recent graduate from Humber College's broadcast television and videography program.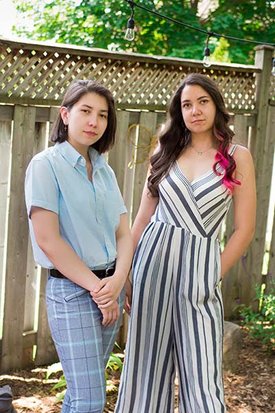 Recently releasing their 30th episode, both Claudia and Angela have learned a lot from each other and about podcasting, seeing considerable growth from those first episodes. Claudia learned how to create podcasts during a summer internship. When the Tanabes started recording the podcast, they had just one microphone. They set up an impromptu recording studio in their basement under a tent made of blankets, so the sound wouldn't reverberate or echo while they recorded.
"Just listening to the first episode compared to the episodes that we do now, we've improved so much in terms of quality," says Claudia. "In the beginning, there were some problems of us both wanting to say what we wanted to say, and we were cutting each other off."
Since then, they have invested in new microphones, and Claudia has learned more about editing audio and adjusting volumes, in order to improve the sound quality. They have also improved how they structure their research and stories to make their points clear. As a result, they have created a podcast with a natural flow and ease, so listeners feel like they are in the room having a conversation and laughing along with the Tanabes. What has been particularly important through the entire process is making sure the information they share on the podcast is accurate and correct, especially now, when misinformation is so easily spread, says Angela.
"That's always in the back of my head. I want to make sure I get the information right when I'm researching because it does reach a decent amount of people, and I want to make sure I'm doing a good job," says Angela.
When she is covering topics around science and health, Angela is aware of the resources she uses in her research, relying on research techniques she learned while in school. The sisters supplement their podcast with additional information on their Instagram, as well as links to sources for anyone who asks.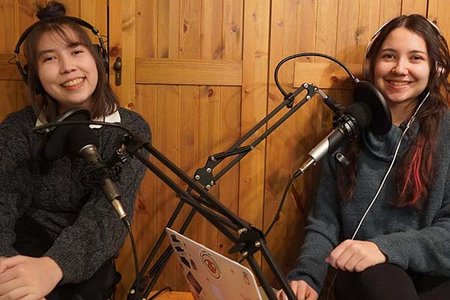 Only two years apart, they have always been close, but the podcast has brought them even closer, says Angela. As well as teaching each other, they candidly share personal experiences related to the topics they cover, and it has been a way to learn more about each other, she says. While Angela was finishing her last semester at McMaster University last year, podcasting kept in touch every week.
The Tanabes take on their questions each week with humour and kindness because if there is anyone to whom you can ask anything, it's your sister, even if she teases you a little bit before giving you the answer.
"I want to get people to expand their perspectives on things and think outside of the box when it comes to certain topics. Especially the ones that you don't want to ask any random person," says Angela. "And also just knowing that there's no such thing as knowing too much, always be open to learning about different perspectives and different topics. Even though it may not be useful to your day-to-day life, there are still things out there that you don't know," adds Claudia.
"There are no stupid questions," says Angela.
* * * * *
To listen to The My Sister Knows Why Podcast, visit www.linktr.ee/mysisterknowswhy.
*This article was originally published in the Nikkei Voice on March 12, 2021.