Did Tommy have to work in camp?
So Tommy had been working ever since she arrived and she harvested sugar beets. There was a sugar beet shortage which sounds ridiculous but it was really important because the men were all responding to the draft so the farm labor was down, and farmers in that region were in a crisis. So I think the idea was kind of like a prison labor camp, where they have these willing and captive people that can be the supply of labor. So Tommy signed up and she was doing what she did. She was a farmworker.
She seemed to be a progressive woman.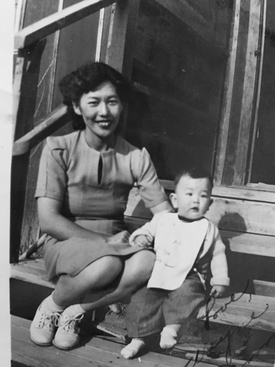 She would act like any other blue-collar American, like grouchy and feisty in one way but poised and quiet in other ways. I think for me, I never really felt Japanese but that's because my mother wasn't raised in traditional Japanese household. I tie it back to my grandmother who very early in her life had to cut ties with that culture. So I can see undercurrents of the Japanese influence in her mannerisms and her ethics, her integrity but anything else, it's almost like she had to wipe that away. And in turn we all didn't get that.
I sometimes feel a loss, too. My dad speaks Japanese but never taught us. I'm wondering if that was a product of being in camp, and trying to start over.
My mom gave all of us Japanese middle names, it was like a reclaiming thing that happened with our parents.
And when was your mother born?
In 1951, after camp. My mom is Japanese and my dad is from Indonesia. I almost think that because my grandmother married against her parents' wishes, and my parents married outside, I'm a product of that. It kind of set a precedent.
I went back to Japan this summer and I've never been. I felt like a monster. "I have come back, this is what happens when you allow the races to multiply in another country." And Japan is such a homogenous, controlled, and kind of contained environment. And so I went there and I feel like my movements are too big, I talk too loud, I sweat too much. All of those offensive things [laughs].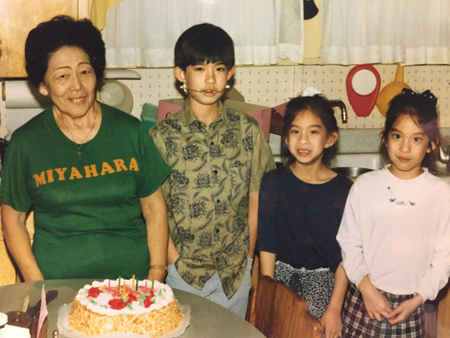 Yes, it's so offensive to be American. But how was the experience for you? Did you feel a connection at all?
Some things. I think, their pace of life felt familiar. Like with the way they talk, they talk very slow and measured. You do things slowly and delicately and that's very Japanese. But I'm very American so I'm moving fast and knocking things around so I have that side, too.
Is your mother passionate about this history or interested in it?
I wouldn't say she's passionate about it but she'd talk about it. I think ever since I was younger I've had this lens of social justice and I don't know where that was fed. My mom isn't passionate but she'll tell me stories and she's very excited that I was finding these photos. She did say, "I don't know how grandma would feel about her diary being on the internet." [laughs] I feel like I'm giving her a life and a voice outside herself. I try to keep most of the private details private.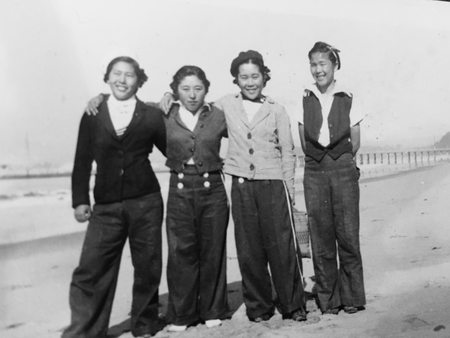 What made you want to actually send it out into the world?
I think it was that I wanted a way to have this digitally for my family to refer to. And to put this in a trajectory and tell her story because for me, I'm learning so much about my grandmother. When she passed away and we put together this album you're looking at, I didn't see my grandmother. I saw this woman who had a life before she was interned and had dreams and had a really great social life and it was suddenly stripped away. So I saw this story of loss, and a story of how she moved on and had a life after that. I did think it was important to share.
If you had to pick out one or two things that were the most surprising, is there something you can point to?
At the time I wasn't sure if I was going to stay in the Bay Area and when I saw these photos I thought, wow. My roots are really deep here. And seeing how her and Frank deal with the loss of their child was kind of heartbreaking. All her entries up until then were very boring but after her child died, it was like a valve had broken loose. That was a side I had not heard from her. A side I hadn't seen.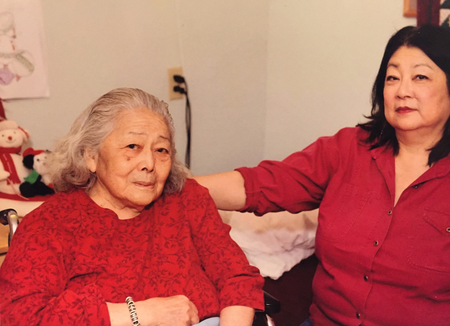 *This article was originally published on Tessaku on February 22, 2017.