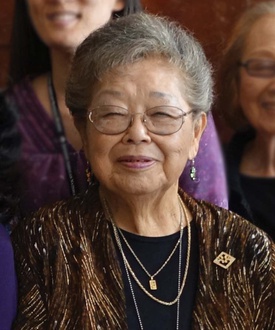 "After I retired in 1993 as assistant to the president of a large nonprofit organization, I began my second career as a volunteer," says Mary Karatsu. Indeed, she has been a prominent figure among community-based organizations like the Japanese American National Museum for many years, armed with determination and no small amount of charm.
Her early inspiration came from a Caucasian lady who took her under her wing and taught her what it meant to serve others. "She was such an influence in my life," says Mary. "I wanted to be like her when I grew up."
For 28 years, Mary worked for one of America's biggest nonprofit organizations, the YMCA, as assistant to the president. Her work experience served her well as she became an early supporter of the Museum and took on leadership roles among the volunteers. She was chairman of two editions of the best selling Cooking with Love cookbook, twice chaired the All Museum Talent Showcase for the Events and Recognition Committee; and, along with Jennifer Hirano, created and named the volunteer newsletter, Volunteerly Speaking over 20 years ago.
Her forte, however, is fundraising. "[It's] one of the hardest things to do and most essential for any nonprofit," she says. In the Museum's early stages, Mary was part of the Westside group challenged to raise $100,000. "We basically contacted family and friends, but everyone was supportive. Everyone thought a Japanese American museum was a good idea, and we knew the people involved like Bruce Kaji and Irene Hirano. We were so proud when we were able to raise $150,000."
Mary and her husband, George, were recognized in 1996 with the first Museum Family Spirit Award. In 1999, Mary received the Miki Tanimura Outstanding Volunteer Award.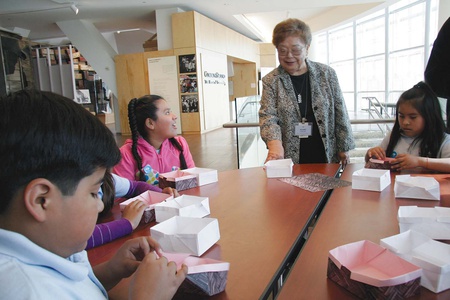 The third of six children, Mary was 17 and attending UCLA when the war broke out. She and her older sister were allowed to move to New York, where an uncle had arranged an apartment for them. Mary attended business school and secured a job at a bakery supply house.
"We were farmer's daughters, not worldly at all," she says, "and there we were interacting with all these different nationalities. I think it was a good learning experience. When I think back about this experience, I just feel thankful that we were accepted there considering the climate of anti-Japanese feeling rampant at that time."
Later, Mary visited Heart Mountain concentration camp where her parents were confined and brought her younger sister and brother back with her to the East Coast. "We all lived together in a small apartment," she remembers. "My sister and I became their parents."
Meanwhile, George Karatsu's family was incarcerated at the Amache concentration camp. George was granted permission to leave this camp, so he went as far as he could, recalls Mary. He ended up in New York and worked for awhile at the Methodist Church Board. He was subsequently drafted into the U.S. Army and joined the 442nd Regimental Combat Team and served in Europe as a member of Company G.
He and Mary were married after the war in 1950.
"As you grow older," Mary says, "you wonder why we American-born citizens became suspect when the war broke out and why was it necessary to incarcerate us?
"Times have changed and the injustices that Japanese Americans faced before WWII have been explored and resolved. We Nisei taught our children and grandchildren the core values that our parents drummed into us."
Mary notes that subsequent generations of Japanese Americans are well-educated and steeped in the core values taught them by their parents and have succeeded in every sector of American society. Her son, Robert, for example, is head of the library at Rancho Cucamonga which was recently voted best library in the nation.
Speaking with pride about the Japanese American National Museum, Mary says "Just the idea of having this impressive building where people can come and learn our story is significant. For our volunteers, there's much more. We're like a family now. We have a common background and relate to each other."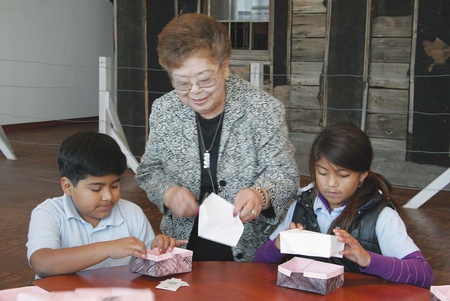 * Mary Karatsu was interviewed by Tomomi Kanemaru and the article was written by Ellen Endo for Voices of the Volunteers: Building Blocks of the Japanese American National Museum, a book presented by Nitto Tire and published by The Rafu Shimpo. This story has been modified slightly from the original.

Presented by