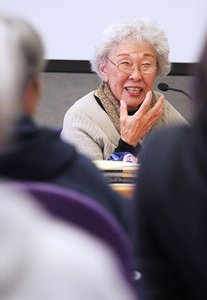 Wakako Yamauchi, a renowned Nisei writer best known for her play And the Soul Shall Dance, passed away on Aug. 16 at her home in Gardena, CA. She was 93.
She is remembered for depicting the struggles of Japanese immigrants and their children during the Great Depression and World War II, which she personally experienced.
Yamauchi, who was also a short-story writer, a poet, and a painter, published two books, Songs My Mother Taught Me: Stories, Plays, and Memoir" (1994) and Rosebud and Other Stories (2011).
She was born Wakako Nakamura on Oct. 24, 1924, in Westmorland to Issei parents ...