Kimio Tajima was an American-born Nisei, but he died a Japanese soldier, while at war in New Guinea. He was 28 years old. His son, Kihachiro, was only ten months old when Kimio was drafted. Kihachiro grew up being called a war orphan, not remembering his father's face.
When he was in elementary school, he asked his mother, "Why am I a war orphan?" She told him, "Your father died in war as a Japanese soldier, but he was born in the U.S." Through her stories, Kihachiro began to adore his late father whom he had never met and dreamt of going to America.
Kihachiro was born in 1942 in Fukuoka Prefecture, but his American roots went back to his grandfather. He came alone from Yame district in Fukuoka to Idaho to learn how to grow potatoes. He called for Kihachiro's grandmother from the same hometown and married her. Then, Kihachiro's father Kimio was born.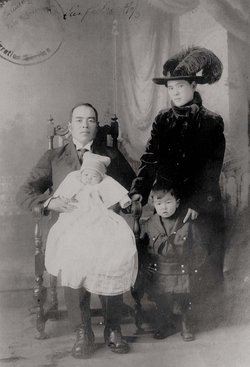 The grandfather built his fortune in the U.S., and when Kimio was around five years old, the family went back to Fukuoka. Kimio returned to the U.S. to go to high school in Los Angeles. During his sophomore year in college, however, his parents told him "As the chonan (eldest son), you have to return to Japan." Kimio returned to Yame and eventually married Kihachiro's mother from the same town. Soon after, the war between the U.S. and Japan broke out.
Kihachiro's father died in the war, and his grandparents died after it ended. As the wife of the eldest son of the honke (main family home), however, his mother stayed on to raise Kihachiro alone there.
When Kihachiro was 23 years old, there was a mine explosion in Omuta, Fukuoka, in 1963. He saw in the newspaper that Mr. Shichiro Ogomori, representing the Southern California Fukuoka Kenjinkai in Los Angeles, had come to Japan bearing a sympathy offering to the victims. Mr. Ogomori was a distant relative of the Tajima family, who had looked after Kimio in the U.S. When Kihachiro went to meet Mr. Ogomori, Mr. Ogomori said, "Oh, you are Kimi-chan's boy!" Kihachiro told him that he was interested in going to the U.S. Mr. Ogomori suggested that he study abroad and agreed to become his sponsor.
Kihachiro could not speak English at all, so he began studying diligently. For a time, he thought that 23 years old might be too old for learning a language, but he didn't want to have regrets decades later. So he made up his mind. At 26, in 1968, he left for the U.S.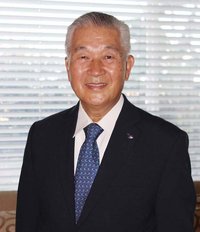 Since moving to the U.S., Kihachiro says that he has never experienced any apparent racial discrimination. "I believe it is because of the existence of Japanese American communities and the contributions of the Nikkei and 442nd Regimental Combat Team," he says.
As he settled in his new country, he became active in the Fukuoka Kenjinkai and spent most of his time where he could hear Japanese. "I was protected by the Nikkei community," he says.
In 2008, the Southern California Fukuoka Kenjinkai held its centennial celebration. The late U.S. Senator Daniel Inouye, honorary member of JANM's Board of Governors, made an appearance. Senator Inouye's ancestors were also from Fukuoka. This was when Kihachiro began to develop his interest in Japanese migration history. He joined JANM as a volunteer and became a docent. "I am happy I can share the stories of the Japanese Americans who worked hard in this country and tell the history of the country where my father was born, instead of him," he says. "My father must be very happy."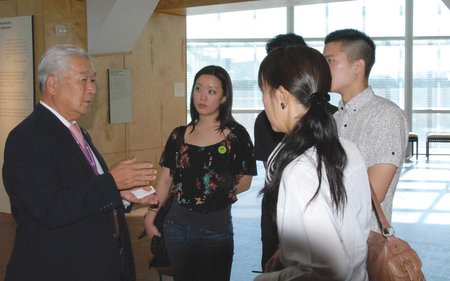 * Mr. Tajima was interviewed by Tomomi Kanemaru and the article was written by Ryoko Onishi for Voices of the Volunteers: Building Blocks of the Japanese American National Museum, a book presented by Nitto Tire and published by The Rafu Shimpo. This story has been modified slightly from the original.

Presented by