I knew of Gene Oishi, the Nisei author of Fox Drum Bebop, well before I actually met him. This was because in 1968 he became implicated in a national (even international) cause célèbre for his victimization in a high-profile racist episode. Then a Baltimore Sun reporter, Oishi was slumbering in his seat on a political campaign plane flying from Las Vegas to Los Angeles when a fellow passenger, Republican vice presidential candidate Spiro Agnew, gestured toward him and inquired, "What's the matter with the fat Jap?"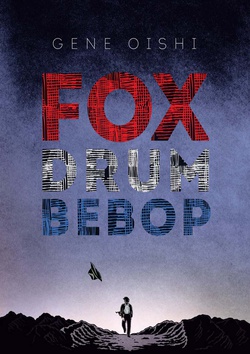 Charged with insensitivity, Agnew responded that he had long known Oishi and was merely "jesting." Deferring to Oishi's desire to keep the episode private, the Washington Post initially hesitated to go public with it. When it did, Agnew first proffered lame excuses and only later reluctantly expressed remorse. But precisely because "words do matter"—a point that academic and community historians of the Japanese American World War II eviction and incarceration experience have driven home in recent years—Agnew's insult retained a long shelf life.
Some five years after the Agnew flap, I encountered Oishi when he made a research visit to the Japanese American Oral History Project at California State University, Fullerton. Then on leave from the Sun to write a book about his life in relation to his wartime incarceration, he wondered what stories our project's interviews might contain to facilitate his undertaking.
Previously, I had read a piece by him in West Magazine, a Los Angeles Times supplement, decrying the racist treatment grade school administrators and teachers in the north Santa Barbara County farm hamlet of Guadalupe were then imposing upon their largely Mexican American students.
Having attended, in the early 1950s, a grammar school in south Santa Barbara County's agricultural village of Goleta with a quite similar demographic profile, and having also read in Oishi's article that prewar Guadalupe, in concert with its substantially larger neighboring agrarian town of Santa Maria, had constituted a major Nikkei center within California's central coast region, I longed to talk with him at great length about these topics. However, because I had classes to teach, Oishi spent most of that day with a close Nisei colleague and friend of mine at a Japanese restaurant in Los Angeles' Little Tokyo eating sushi, drinking beer and sake, and very likely conversing about their common youth in "camp" and abiding passion for jazz.
Fortuitously, in the late 1980s, I stumbled upon Oishi's 1987 memoir, In Search of Hiroshi. What prompted me to read it was something I recalled him writing two years earlier in a New York Times Magazine article provocatively titled "The Anxiety of Being a Japanese American." After recollecting his near breakdown in 1981 when speaking before the Commission on Wartime Relocation and Internment of Civilians, Oishi confessed that not until his subsequent return to the scene of his wartime imprisonment at the Gila River concentration camp in Arizona did he first sense that perhaps his discomfort and that of other Nisei with stereotypes (whether negative or positive) was rooted in fear, and that it was very likely fear that ruled much of his life and theirs. Thus, the "search" embodied in his memoir represented an earnest quest to exorcise his fear and, in the process, to divest himself of a contrived standard-issue identity and to supplant it with an authentic one.
As good a book as In Search of Hiroshi is, Fox Drum Bebop is still better. Both are memoirs and they cover much of the same ground, though strictly speaking the latter is a novel since, as Oishi allows in his editorial note, it is "based on memories that have been reimagined and embroidered in the story making." This difference makes all the difference, however, in that Oishi, being freed from the bonds of strict factuality, is released to plumb the depths of subjective truth.
Temporally, the book encompasses the author's life from 1940 through 1982; structurally, it artfully orchestrates a medley of chronologically ordered short stories into a unified narrative; and topically, it presents the "coming of age" of a younger Nisei in a manner that illuminates the historical contours of that generational cohort group without sacrificing the nuances and complexities of one of its talented idiosyncratic members.
Before reading this book, I had been told by fellow historian Greg Robinson that, in his opinion, it ranks near the top of fictional works produced by Nisei writers. I now agree wholeheartedly with this assessment.
FOX DRUM BEBOP by Gene Oishi
(Los Angeles: Kaya Press, 2014, 276 pp., $16.95, paperback)
*This article was originally published on Nichi Bei Weekly, on July 24, 2014.