How fitting that the woman known as "The Song Bird of Manzanar" had a bright yellow canary sitting in her Orange County apartment—singing, of course.

"His name was 'Tori, Tori, Tori'" she said.
And together, the song birds sang.
Mary Kageyama Nomura, the Song Bird of Manzanar, has been singing for over 70 years, and still loves it.
"Except now, it should be 'The Old Crow of Manzanar!'" she said laughing.
Perhaps it's her infectious laughter and sense of humor. Or maybe it's that in combination with her close-knit family and a lifelong love of music, but when you see Mary today you soon realize she looks much younger than your stereotypical image of an 80-something Bachan.
Tall and slender, dressed in a red sweater, black slacks, hip black-rimmed glasses, with neatly-styled brown hair, Mary remains, as described some 60+ years ago in a Manzanar high school yearbook, "one swell gal."
Back in April 1942, 16-year-old Mary and her brothers and sisters were evacuated from their Westside home to the Manzanar Relocation Center in Owens Valley, CA.
"It was not a joyful ride," she said, remembering the eight-hour bus ride from Venice to the middle of a desert. "We left early in the morning and arrived at dusk. I remember getting off the bus and seeing dust everywhere, and I thought to myself, 'This is where we're going to live?' That first night, all I could do was cry. But we had to get used to it."
Adopting the Japanese philosophy of "Shikata ga nai," or "It can't be helped," Mary and the rest of her fellow internees immediately set out to make the best of the situation.
Sports leagues were formed. Schools were started. People took on jobs.
And in the evenings, they organized talent shows and dances.
This is where Mary Kageyama shined, and eventually earned the title, "The Song Bird of Manzanar."
Before the war, Mary was well-known in the community as a singer of classical, opera, 1930s American and old Japanese songs. Beginning at the age of four, Mary sang at the old Koyasan Buddhist Temple to the musical accompaniment of her mother, Machi Kageyama, who played shamisen, taught singing and odori. It was from her mother, said Mary, that her love of music began and continued throughout her life.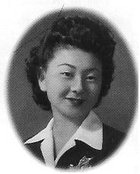 Unfortunately for Mary and her five siblings, her father passed away in 1929 from pneumonia, and her mother, after remarrying, died in 1933, leaving the young family without parents.
"An orphanage came to pick us up," said Mary, "But my older brother knew that they we would all be separated, so he refused to let them take us."
Instead, the older brother, Akira Frank, then 17, and an older sister, Mae, 16, both quit school and took on jobs to support the family during the Depression.
Frank bought a book on horticulture and taught himself to be a gardener. Mae got a job at a local produce market.
"Times were tough during the Depression," said Mary, who was 11 years old at the time. "But my brother was able to scrape up $1.50 a week for my voice lessons, and 10 cents so I could ride a bus from Venice to Santa Monica to get there. I really do owe my brother a lot for allowing me to do that," she said.
Despite the loss of her parents, and with the help of a supportive family, Mary kept singing. She performed in talent shows at the Venice Gakuen and the West LA Buddhist Church. And when she was 12, the West LA JACL sponsored her trips to entertain U.S. servicemen stationed up and down the California Coast. The only child performer among a group of adults, she sang popular ballads from the '30s.
In her mid-teens, she teamed up with her brother and sister to form the Kageyama Trio, who performed at Nisei Week in Yamato Hall in 1940 and 1941.
Together, they sang the song, "Georgia."
"I always wanted to sing," she said. "I learned all the songs from listening to the radio and writing down the lyrics. I was constantly singing around the house. I just enjoyed singing. Judy Garland was my favorite."
Her dream was to become a radio singer. But that ended on December 7, 1941 with Japan's bombing of Pearl Harbor.
At 16, Mary was shocked by the news, but the full impact of what happened didn't hit her until there was talk about "relocation."
Once that hit home, reality really sunk in when the family was forced to sell her mother's hand carved, upright piano for only $5. After the war, they tried to buy it back, but no one knew what happened to it. All that's left of the piano is a photo with Mary's family gathered around it—and the memories of the music it used to play.
On the piano is the sheet music for the song "Stay as Sweet as You Are."
"My brother still sings that song to this day," said Mary.
Back in camp, Manzanar dance and talent show organizers would ask Mary about a week in advance if she would perform at their functions. Happily, she obliged, and soon had quite a following around the camp dance circuit, where she would be called on to sing a couple numbers about half way through the program.
Accompanied by a camp band musician or Louis Frizzel, the popular Manzanar music teacher, Mary would stand by the piano at the front of the mess hall and sing the popular tunes of the day.
"The very first song I sang in camp was 'Tangerine,' acapella" she said, referring to the Johnny Mercer classic. "The last song I sung in camp was 'I'll be Seeing You.'"
And in the three years in between, she touched a lot of hearts along the way singing songs like "All or Nothing at All," "Old Black Magic," "I Remember April" and the "Trolley Song" from the movie "Meet Me in St. Louis."
The Manzanar High School yearbook described the "Silver-voice Miss" this way:
"Her friendliness, her sense of humor and her dependability all contributed toward making Mary one of the swellest girls in the camp, and also a fine student leader."
Along with singing at camp dances and shows, she also sang at her sister's wedding reception held inside the camp, as well as a funeral. She's not sure who named her "The Song Bird of Manzanar," but it stuck. Embarrassed by the title at first, she grew to accept it as her voice continued to bring joy and hope throughout the camp.
"It was a real sentimental time and era," she said. "People weren't so hurried like they are today. They had time for each other. The words and music were so beautiful. They told a story. The swing tunes were all happy. They don't write songs like that anymore."
Outside of singing, she worked as a receptionist/file clerk in the camp's public works department. During her free time, she was a member of an acapella choir and a girls club called the Modernaires, who participated in the camp's intramural softball league.
"What position did I play?" she asked. "Left out," she joked. "Or right field, where they put all the bumbled-fingered ones."
Another big highlight of her days at Manzanar was meeting her husband, Shiro Nomura. Older than Mary by several years, "Shi" (pronounced "Shy") was an advisor for the boys club known as the "ManzaKnights," who sponsored an annual event called the "Turkey Trot."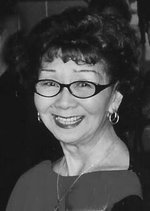 Mary was asked to sing, but prior to the event Shi wanted to make sure one of the ManzaKnights served as her escort to the dance. But it turns out most of the boys didn't want to be seen with her because she was taller than them, so by default, Shi Nomura escorted Mary to the Turkey Trot in November 1944.
"And we were together for 55 years," said Mary.
The couple got engaged on April Fools Day, 1945. ("When we told people we were engaged they thought we were kidding," said Mary.) And after leaving camp, they married in June 1945.
Unfortunately, her dream of being a big recording star was never fulfilled.
She went on to raise five children. And today, at 84, she has 12 grandchildren, some of whom sing, just like grandma.
"I still love to sing," she said.
* * *
"The Camp Dance: The Music & The Memories," featuring a special guest appearance by Mary Kageyama Nomura, will be performed on Saturday, November 7, 2009 at 1 p.m. & 7 p.m. and Sunday, November 8 at 2 p.m. at the Tateuchi Democracy Forum at the National Center for the Preservation of Democracy. General admission tickets are $25, $23 for Museum members, seniors and students. For tickets and info, call 213.625.0414 / 323.769.5503