Japanese American National Museum Magazine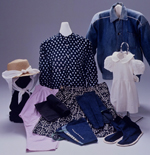 When I first began my study, my objective was narrowly defined to describe and to collect samples of work clothing worn by Issei (first-generation Japanese) men and women on the sugarcane and pineapple plantations in Hawaii. I began to interview as many Issei men and women as I could find who had worked in sugarcane or pineapple fields.
As I conducted the interview the scope of my study became broader, my interviews unearthed valuable information about other types of clothing and led to important insights into other aspects of the immigrant experience on the plantations. I soon found that my ...