My Japanese American uncle just turned 90 this weekend, and here is his story about how he fought in World War II.
He fought in the 442nd Battalion, the most highly decorated infantry in United States History, and he received a Bronze Star and a Purple Heart for his bravery.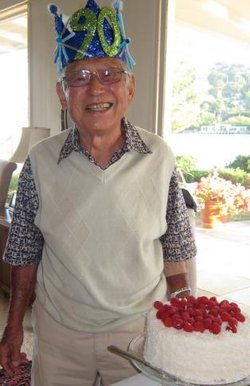 And in his words, he shouldn't have had to prove that "he was an American" anymore than anyone else, simply because he was Japanese.
It was a frightening period for everyone in the U.S., but especially for Japanese American citizens who were imprisoned in internment camps and had their land, businesses, and freedom taken away because of fear, racism, ignorance, and bigotry.
While mothers and fathers clung to their younger children, many young Japanese men who were old enough to enlist in the War left barren camps and felt it was both their duty and their right to fight on behalf of the Americans, which they were a part of since birth.
This was a surprise attack on American soil wherein 2,402 innocent Americans were killed, 1,282 were wounded, and most devastatingly…when the spirit of the country became demoralized as our country realized perhaps for the first time how vulnerable we really were as a people and as a nation.
But what is not widely known by many Americans is the unrivaled and courageous performance of the 442nd Battalion, a unit comprised 100 percent of Japanese Americans, forever known as the most highly decorated infantry in the history of the United States Armed Forces for their commended unbridled bravery and service.
As most Japanese in mainland states were inhumanely forced to survive in internment camps on a moment's notice with their land, possessions, businesses, freedoms, and dignity taken away, young Japanese American men nonetheless immediately enlisted and volunteered in the efforts of the war; even those whose families were forced to live in camps.
In some instances, many of these soldiers felt even more patriotism, wanting to prove their allegiance to the country they were born and raised in, and to show the world that they were in fact, true and red-blooded Americans.
Three of my uncles from Hawaii eagerly volunteered as part of the 442nd, although their families were allowed to keep their homes and businesses and were not interned as it would have severely devastated the state's economy as approximately two-thirds of the population were of Japanese descent during this period.
One veteran uncle who recently turned 90 told me a story about how, after he was severely wounded by a gun shot to his arm, carried a man twice his weight over his shoulder to safety across a fast-moving river for more than a mile to safety.
He said he didn't hesitate or give it a second thought to save a fellow soldier he didn't even know, because it was his duty and mission as a dedicated soldier and in his words "No man is more or less important than any other."
The motto for the 442nd Battalion was "Go For Broke".
John J. McClay, Assistant Secretary of War, said the following about the 442nd Infantry, "I cannot say that their 'Go For Broke' service has ever been adequately honored, but I do know that any objective appraisal of the record of this unit will place it high up in the annals of our military history."
"Whether in France, Italy or elsewhere, I know of no other units in the American Army that fought and persevered more gallantly than did those Nisei companies and battalions."
Their unit fight song was:
We're the boys of Hawai'i nei—
We'll fight for you And the Red, White and Blue, And Go to the Front…
And Back to Honolulu!…
Fighting for dear old Uncle Sam!…
Go For Broke! HOOH! We don't give a damn!…
We'll round up the Huns— At the point of our guns— And victory will be ours!…
GO FOR BROKE! FOUR-FOUR-TWO! And victory will be ours!
While their victory was certainly bright insofar as their unparalleled valor, courage, and humbled honor, they suffered great losses as fearless and determined soldiers. The 442nd Regimental Combat Team fought primarily in Europe beginning in 1944 and was a self-sufficient force who became highly decorated after fighting battles in Italy, Southern France, and Germany, winning 21 Medals of Honor, 52 Distinguished Service Crosses, 560 Silver Stars, 4,000 Bronze Stars, and 9,486 Purple Hearts.
Officially, the casualty numbers which combines those KIA (Killed in Action) with MIA (Missing in Action), including those wounded and removed from action, totals as a fraction of all who served, extremely high.
As in all families, there is "that one story" that both sears and bonds a legacy together, and in my family, our tale is one of hidden and untold stories, bravery, historical intrigue, and a proud legacy for which I will be forever be both appreciative and indebted to as both a citizen of this country and as a human being.
As I am about to embark on a journey to my mother's homeland of Hawaii to interview my veteran uncles and learn about their first-hand experiences during World War II, this is a trip like none I will ever have the opportunity to take again as I will hear truths and stories previously untold, and surely never to be forgotten once they are shared and revealed.
My mother was about seven-years-old when the infamous attack on Pearl Harbor ensued and spewed shockwaves and fear throughout the nation, and for her, framed her childhood, her life-story, and the community in which she lived in a tangible, volatile, and dramatic way.
The immediate decision of my uncles and most young Japanese American men to volunteer in the war's efforts was a respectful one, although it proved a hardship when so many young men suddenly left their small communities behind for unknown territory and deadly conditions on the battlefronts in Europe.
My family, thankfully, were able to sustain their acres of coffee farmlands which they had toiled and worked on for two generations. While the men left for war, the women, including my mother, aunts, and grandmother fought stoically to maintain the daily struggles on their own battlefront at home, maintaining their land and their morale, as women have historically managed during wartime.
Japanese culture by nature is very private and does not believe in self-promotion or talking too much, be it positively or negatively—even having a word in their language "haji" which means "shame" if one is thought to brag. Sadly, one the results of this Japanese cultural trait is that many Americans do not know much if anything about the 442nd during the Second World War.
As a small child I vividly remember my uncles discussing how they felt it was their "duty" and "calling" to enlist in the war on behalf of America, and how they never considered any other possibility.
My mother, who was only a little girl at the time, said she does not remember hesitation, question, conflict, or caution as to whether or not her brothers would risk their lives and fight overseas, and that is was inarguably "the right thing to do."
On one particularly balmy day at dusk near calm Hawaiian waters not far from my family farm where we came together in late summers, I recall my grandfather speak about how it was both a glorious and difficult period to be alive.
In his words, "Japanese Americans were as American as anyone else," and his sons fought bravely, as they were expected to do, alongside Caucasians, African-Americans, and anyone else willing to risk their lives for the country they so loved and belonged to.
Thankfully, I have two uncles who remain alive today to tell their stories about what it was like to serve as soldiers during World War II, and I look forward to hearing first-hand about their personal accounts. Their stories will no doubt be akin to many other soldiers who fought, yet different insofar as the double edged sword of facing racism and bigotry both overseas and on the home front.
As more World War II Veterans pass away each day, bringing many of their valuable stories along with them to their graves for eternity, the impetus to share their experiences becomes more crucial by the day.
As for my long-awaited interviews with both of my uncles, I picture us underneath a Hawaiian Banyan tree on a windswept afternoon under clear island skies. I am as calm and still as the ocean as I listen with bated breath to their quiet memories that will be filled with thunderous, stormy, and sentimental tales of young soldiers who fought for this country some 70 years ago, but never to be forgotten.
* This article was originally posted on her blog Open Salon on May 28, 2012.