The narrators of this article are fictional figures created by Oregon Nikkei Endowment to represent the Japanese American community's perspective on the Sam and Bill Naito story. The events they describe are from factual material and are presented in this narrative as they were for their exhibition.
Section I: Before the War
In those days before the war, some white people saw us as a "Yellow Peril." There was a good sized Japanese community in Portland, started by the Issei —Japanese immigrants who came to America between the 1800s and 1924. Nihonmachi or Japantown, occupied roughly 30 square blocks in Old Town and was home to over 100 Japanese-operated businesses, from hotels and professional offices, to laundries and lumberyards. But there were also Chinese, Greek, and Jewish immigrants; in fact, nearly every immigrant population passed through this area. Each family had its own interesting characters and unique stories. Still, to many white people, we were all the same.
To really understand how these two Nisei —second generation, American-born—boys became city leaders after being kicked out during the war, you have to go back at least one generation to their parents, Hide and Fukiye. They came from the small farming town of Tara, about fifty miles from Kobe, Japan. Hide was the eldest son of a prominent family—his father was the mayor of Tara,—but Hide left the family farm to seek opportunity in America. Fukiye's family was one of the major landowners in Tara and she was educated in a finishing school in Tokyo. They both came to America ready to work hard, but also with a sense of high expectations—values which were passed on to their children.
Hide started the Naito business in Portland in 1920 in a Japanese curio shop on Washington Street between SW 12th and 13th, which was unusual since many Japanese-owned businesses were located in Japantown. Instead of selling Japanese items to Japanese, Hide initially made his business selling imported Japanese goods to white people. With the Great Depression came diversification: from nursery stock and homeopathic remedies to the invention and marketing of hair color-specific bobby pins, Hide's flexibility in business was one of the most important qualities imparted to his children.
Section II: Growing Up
We were immigrants—Issei , first generation Japanese in America. My husband and I wanted to become citizens, but we were excluded by the Naturalization laws. Even a respectable businessman like Hide Naito could not become an American citizen.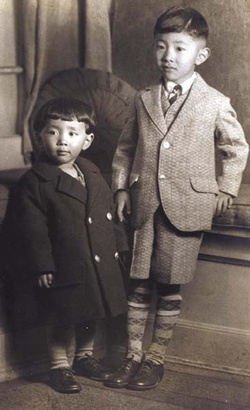 The children, the Nisei generation, were American citizens by birth. The Issei retained their Japanese traditions and customs, but still they spurred their children on to become "American." The Nisei lived in two worlds: at home, it was a Japanese way of life, conversing exclusively in Japanese, and at school an American way, where English was the only choice. Imagine Sam and Bill showing up to their first day of school at Mount Tabor grade school trying to understand what everyone was saying!
I taught Japanese to hundreds of Nisei children, three times each week. Sam and Bill, they were my students, too. I had no way of knowing what a difference they would eventually make. They were like many Nisei children—very eager to fit in with the American way of life and sometimes impatient with Japanese ways.
Some people say Sam and Bill left their Japanese roots behind when they became successful. Instead, I think what they accomplished owes a lot to their experience as Nisei —integrating aspects of two different worlds and making the most of both.
Section III: Being Kicked out of Portland
Imagine walking into high school the day after Pearl Harbor was bombed. It didn't matter that we were Americans. All they saw was Japanese. We were "the enemy."
Bill Naito and I were in the same civics class at Washington High. We studied the Constitution and the Bill of Rights, of course. After Pearl Harbor, when Japanese men were being arrested, Bill said, "We have the Constitution. It's in the Constitution that they can't arrest us without cause."
The toughest lesson on the U.S. Constitution we ever received was being thrown out of our homes, just for having a Japanese family. Sam was heartbroken when he had to leave the University of Oregon just a couple of weeks before the end of spring term. Sam had the support of influential professors, but it did not make a difference—University President Donald M. Erb told him it would be "unpatriotic" for him to allow the Japanese students to stay.
They collected all of us down at the stockyards in North Portland, which they turned into an Assembly Center. Bill was an avid 4-H member, but his pet chickens and rabbit were not allowed to be taken to the Assembly Center. The Naito family had relatives in Utah, so they got permission to go there. My family went to an internment camp in Minidoka, Idaho, like most Japanese families in Portland.
Bill and I wanted to show we were American by signing up to fight the Japanese in the Navy. But all the Nisei who wanted to enlist were forced to serve in the Army, and were segregated into the 442nd Regimental Combat Team. The 442nd was already famous for its service in Italy, France and Germany and remains the most decorated fighting unit for its size and length of service in U.S. military history. Bill answered the call for Japanese interpreters from General MacArthur and applied to join the Military Intelligence Service. After passing the entrance exam, Bill served in the U.S. occupation of Japan. Sam entered the Army in 1945 after graduating from the University of Utah.
Section IV: Moving On
We came back to Portland after the war and tried to put the whole internment behind us. My boyfriend got a job, working in the Naito company's warehouse while I went back to school. When I finished college, Sam Naito hired me to process gift orders.
Sam had completed a Master's degree in business at Columbia after the war, and he and Mary settled in Southeast Portland. When he rejoined his dad, Sam came up with a plan to meet a growing market for English Bone china and started Norcrest China in the basement of Hide and Fukiye's house. The orders were just flying. Then around 1953, Bill came back from University of Chicago. He put aside his doctoral work in Economics to work together with Sam in their father's business.
The two brothers kept things growing and growing. And always there was a constant stream of new ideas. In 1962, where Japantown used to be before we were kicked out, Sam and Bill opened the Import Plaza store in the old Globe Hotel, the first building they purchased and renovated. No one was more surprised than Sam and Bill to find people lining up to come inside and shop! Sam authored the catchy advertisements, and the convenience of its own parking lot and items costing as little as $1 made it a huge success, even in Portland's seedy Skid Row.
That was a turning point. The company needed extra room for all the business, so the Naito brothers started buying old buildings. Bill turned himself into a champion for historic preservation. He and Sam converted one old building after another into offices, restaurants and shops—whatever people could be talked into. Block by block, the Naito brothers helped turn the wreck of Japantown into the Skidmore-Old Town National Historic District in 1975.
Section V: Legacy
I grew up reading about Sam and Bill Naito in The Oregonian , and seeing them associated with mayors and governors, colleges, libraries and hospitals. We regularly shopped at Made in Oregon and Import Plaza.
When I started my business, I rented space in one of their historic buildings, and that's how I met Sam and Bill. I really came to know Bill when he was chasing me down the street one day when my rent was two months past-due! The brothers could not have been more different from each other. Sam was always impeccably dressed and took his role as first-born son seriously—he looked and acted like the businessman he was. Bill was hastily dressed, and often times mismatched—a fact he put up to being colorblind. Sam's desk was always neatly organized while Bill's was a series of piles, messages, and two telephones. If they weren't brothers, I don't know if they would ever have been partners, but together they made a great team, balancing out each other's idiosyncrasies to create one successful unit.
What the Naito Brothers did was legendary. Sam was the first minority member of the Arlington Club and to serve on the Board of Standard Insurance. We younger generations could never really know the hardship of the war years and how it affected our parents and grandparents. We heard the family stories about the War years and internment and the betrayal and shame of it all. But then you walked around the city and saw the Galleria, Old Town, Montgomery Park, Made in Oregon, and the White Stag sign shining over the Willamette River. It gave you a different sense of being Japanese American in Portland, Oregon.
Check out Sam Naito's oral history interview >>
* * *
Bill and Sam Naito: A Portland Story is an exhibit which focuses on the history, work and legacy of brothers Bill and Sam Naito. The exhibit follows the establishment of the family business in 1920 by their father Hide, being "thrown out" of Portland during Internment, the reestablishment of the business, and ultimate success of their many ventures. One of the many highlights includes the transformation of Old Town from the seedy Skid Row to the nationally recognized and lauded Skidmore-Old Town National Historic District. The exhibit features historic family photographs and ephemera in addition to archival images from the collection of the Oregon Nikkei Legacy Center, and was on exhibit October 8, 2009 – January 10, 2010.
* * *