Outdoor Screening—City of Ghosts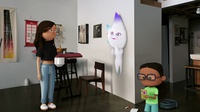 FREE
Join us for a special, family friendly outdoor screening of City of Ghosts! A conversation with creator Elizabeth Ito, director and writer Ako Castuera, and episode stars Atomic Nancy and Zen Sekizawa on telling stories related to the Japanese American community will be held before the screening. 
About the Show:
Featuring a charming blend of animated characters and live-action settings, City of Ghosts is a documentary-style series about a group of ghost-loving kids in Los Angeles who learn about the rich history of their city through encounters with friendly neighborhood ghosts. In each episode — which is based on and voiced by real residents from different neighborhoods — the members of The Ghost Club help others learn to inhabit the present by communicating with the ghosts of the past.
A limited number of chairs will be set up, available first-come, first-serve. Guests are welcome to bring their own chairs and blankets, but please be mindful of blocking others' views of the screen and maintaining social distancing. Masks are required at all times indoors regardless of vaccination status. NO RSVP necessary

JANM . Last modified Oct 08, 2021 3:09 p.m.
---