Solidarity Through the Arts
Zoom
California
United States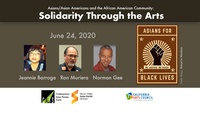 A free event, with a lively discussion with Asian American artists on their response to the renewed awakening of systemic racism, police brutality and the call for solidarity. Esteemed panelists, Jeannie Barroga, playwright/ activist; Ron Muriera, performer/ arts advocate; and Norman Gee, actor/ teacher, recall their personal history of pushing for acceptance and visibility in the theatre world and their commitment to continue the fight for inclusion for all.
Click on the link to register and we will send you the link to the ZOOM event
https://tinyurl.com/aa4blmcats

msaito4 . Last modified Jun 22, 2020 11:08 a.m.
---