Get to Know Nagano: The Home of Nature, History & Sports
Japan Society
333 East 47th Street
New York, New York, 10017
United States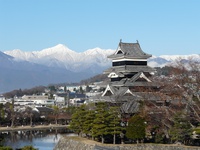 Nestled in the mountains of central Japan, Nagano Prefecture is admired for its many beautiful natural and historical landmarks. A striking black-and-white structure, and the oldest of its kind, Matsumoto Castle is considered a National Treasure. Even long after the 1998 Winter Games, Nagano remains the go-to destination for winter sports in Japan. The region is recognized for its unique cuisine and pristine waters, including rich shinshu soba, flavorful oyaki dumplings and succulent fruit. At this talk, discover the unique characteristics and rich history of this unforgettable region with Nagano Governor Shuichi Abe.
Followed by a tasting reception featuring cuisine from Nagano.

japansociety . Last modified Oct 10, 2019 9:21 a.m.
---