2019 Los Angeles Day of Remembrance—Behind Barbed Wire: Keeping Children Safe and Families Together
Japanese American National Museum
100 N Central Ave
Los Angeles, California, 90012
United States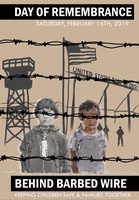 PAY WHAT YOU WISH
On February 19, 1942, President Franklin D. Roosevelt signed Executive Order 9066, which led to the exclusion and incarceration of Japanese Americans during World War II. Families of Japanese ancestry were removed from the West Coast based solely on their nation of origin and veiled under the guise of national security. While behind barbed wire, keeping the family together and safe was of utmost importance to the incarcerees.
Today, also under the guise of national security, migrants from Central America are similarly being held in detention centers. Young children have been torn from their parents as they sought safety and asylum in the United States. Just like Japanese immigrants before WWII, these migrants dream of a decent life for their family and safety for their children. The legacy from the Japanese American redress movement is to make sure we stand up and speak out when we witness people being treated inhumanely by our government as we were during WWII.
Please join us for the 2019 Los Angeles Day of Remembrance as we honor and remember those who were incarcerated during World War II and address our theme, Behind Barbed Wire: Keeping Children Safe and Families Together, exploring the racist parallels of past and present.
Admission to this event and the museum are both pay-what-you-wish on this day. RSVPs for the Day of Remembrance program are strongly encouraged using the link below.
Click here for updates and to RSVP.

Presented in partnership with Go For Broke National Education Center, Japanese American Citizens League–Pacific Southwest District, Japanese American Cultural & Community Center, Kizuna, Manzanar Committee, Nikkei for Civil Rights & Redress, Nikkei Progressives, Organization of Chinese Americans–Greater Los Angeles, and Progressive Asian Network for Action (PANA).

JANM . Last modified Jan 31, 2019 11:20 a.m.
---