The Beauty of Bonsai: Culture & Cultivation
Japan Society
333 East 47th Street
New York, New York, 10017
United States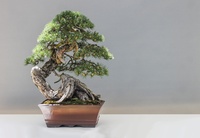 Bonsai's artistic roots go back over a thousand years in Japan, and today the art form has spread across cultures, embracing new plant species and international influences. Through the careful guidance of human hands, miniature bonsai trees flourish into a microcosm of the natural world. At this talk, Julian Velasco, professional bonsai artist and former Bonsai Collection curator at the Brooklyn Botanic Garden for 11 years, joins us to share what makes these exquisite trees so special and how they can help improve our lives by connecting us to nature. Followed by a reception.
Tickets: $15/$12 Japan Society members, seniors & students

japansociety . Last modified Jul 30, 2018 9:21 a.m.
---