Tanabata Kazari Workshop
Japanese Cultural and Community Center of Northern California
1840 Sutter St.
San Francisco, California, 94115
United States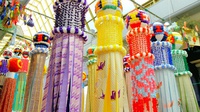 Come join the Japanese Cultural and Community Center of Northern California as we celebrate Tanabata with a kusudama kazari craft workshop on July 28th from 1:00-3:00 p.m. Learn how to design and create your own mini kusudama kazari.
Tanabata is a Japanese holiday that takes place on July 7th to celebrate a Japanese folktale about two lovers, Orihime and Hikoboshi. Separated by the Milky Way, these two are allowed to reunite once a year on this day. Many celebrate this holiday with the kusudama kazari, which is a round decoration with colorful streamers flowing from the bottom. All mini kusudama kazari will be displayed at the Center and returned at the end of the holiday in August. We invite individuals, families (children 5-12 must be accompanied by an adult), and community organizations to come celebrate this holiday with us! All materials will be provided. Must RSVP by July 21, 2018. Register today by visiting http://bit.ly/tanabatajcccnc.

Nikkei3 . Last modified Jul 08 2018 5:24 p.m.
---