Obon Festival - Honokaa Hongwanji
Honokaa Hongwanji
45-5016 Lehua Street
Honokaa, Hawaii, 96727
United States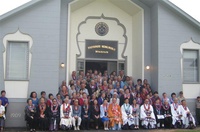 Come to celebrate Honokaa Hongwanji's annual obon festival! A traditional Buddhist style of folk dancing, Bon Odori (Bon Dance) is accompanied by lively Taiko drums and music, led by dance groups in colorful happi coats to represent different temples. Young and old participate, whether they are beginners or lifelong dancers.
Honokaa Hongwanji was established in 1904 with Rev. Joei Abe of Papaaloa ministering in various temporary temples. In October 1905, the first temple was erected and it was originally known as Hamakua Hongwanji, as it served the entire Hamakua district.
Saturday, 7/21 - 7:00 p.m., service: 5:30 p.m.
Learn more about Honokaa Hongwanji
Phone: (808) 775-7232

daniyang8 . Last modified Jul 12, 2018 2:14 p.m.
---