PLAY READING: Moss on the Mirror
Japanese American National Museum
100 North Central Avenue
Los Angeles, California, 90012
United States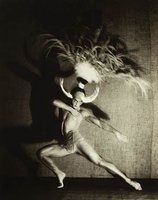 MOSS ON THE MIRROR
by Warren Sata
Directed by Chris Tashima
CAST:
Aaron Aoki
Junko Goda
Blake Kushi
Michael Marinaccio
Brian Takahashi
Moss on the Mirror is a fictional story inspired by the life and work of renowned photographer Toyo Miyatake. Taking place in Los Angeles' Little Tokyo district in the late 1920s and early 1930s, where Miyatake's practice flourished before World War II, the play examines the creativity, hope, and optimism, as well as the struggles and challenges, of the Japanese immigrant photographers community. Although not a literal retelling of actual events, the piece seeks to transport audiences to the feelings and circumstances of those times.
Moss on the Mirror was written by Warren Sata, a relative of J.T. Sata, who is a featured photographer in the exhibition Making Waves: Japanese American Photography, 1920–1940.
Free with museum admission.

Kagemusha . Last modified May 07, 2016 9:03 a.m.
---