11th Annual Asian Heritage Street Celebration
Civic Center Plaza
San Francisco, California
United States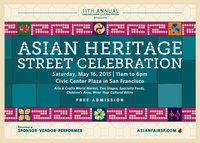 WHAT: 11th Annual Asian Heritage Street Celebration
WHERE: Civic Center Plaza in San Francisco
DATE: Saturday, May 16th, 2015
TIME: 11am to 6pm
PUBLIC TRANSPORTATION: BART and MUNI
Arts & Crafts World Market, Two Stages, Specialty Foods, Children's Area, Healthy Living Pavilion, Wear Your Cultural Attire
FREE ADMISSON

The largest gathering of Asian Pacific Americans in the nation will be back when the Asian Heritage Street Celebration (AHSC) returns Saturday, May 16th with a new look, new leadership, and a new location in San Francisco's Civic Center Plaza.
The re-imagined event commemorates Asian Pacific American Heritage Month and comes at a unique moment in San Francisco's history when the mayor and more than a third of San Francisco's supervisors are Asian Pacific Americans.
"We are moving into one of the most beautiful spots in the city," said Tamiko Wong, executive director of the Oakland Asian Cultural Center. "City Hall, the Asian Art Museum, and the Main Library will provide the backdrop to some of the finest Asian Pacific American performers, artists, and craftspeople."
The Asian Heritage Street Celebration will attract more than 100 vendors who will be offering their own unique arts, crafts, and goods from a diverse array of Asian Pacific Islander traditions. The Healthy Living Pavilion will offer health education and services.
From Cynthia Lin and the Blue Moon All-Stars to Japanese koto, event entertainment will run the gamut of modern to traditional Asian performers. The food bazaar will feature vendors preparing authentic and imaginative treats from Korean tacos to Filipino lumpia to Thai noodles to Vietnamese BBQ.
For sponsorship information contact Susie Kagami: susiekagami@oacc .cc
For vendor/booth information contact Kerwin Berk: kerwinberk @oacc . cc
For media information contact Tamiko Wong: tamikowong@oacc.cc
For entertainment contact Janice Hom: performers@oacc.cc

OACC1 . Last modified Apr 03, 2015 1:12 p.m.
---