Treasure Hunt Market & Japanese Book Sale
Nikkei National Museum & Cultural Centre
6688 Southoaks Crescent
Burnaby, British Columbia, V5E 4M7
Canada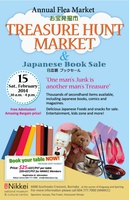 "Someone's GARAKUTA (junk) is another's OTAKARA (treasure)."
Date : Saturday, February 15, 2014
Time : 10:00am-4:00pm

Free admission!
Come to our 8th Annual Treasure Hunt (Otakara Hakkutsu ) Market – join in on the hunt and find YOUR treasure!

Over 40 tables with lots of Japanese items, dishes, clothes, small appliances, toys, books etc.
Find treasures! Join the many scavengers!
Japanese Book Sale:
Thousands of Japanese books, comics, magazines. All in EXCELLENT condition! AMAZING prices!!
Prize Draws – You have a chance to win prizes such as NNMCC Membership, $10-$5 book voucher for the next book sale, Gift packages, etc. for every $10 when you spend for Japanese books! Or visit corporate booth and get a entry form.

NNMCC . Last modified Feb 12, 2014 2:32 p.m.
---