The 6th International Symposium of Japanese Gardens
Japanese Friendship Garden Society of San Diego
2215 Pan American Road. E,
San Diego, California
United States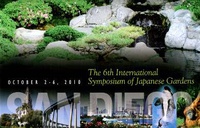 We are proud to announce the 6th International Symposium of Japanese Gardens, "The Spirit of Japanese Gardens and Japanese Culture," which will be held October 2 to 6, 2010 in San Diego, California.
Participants will have the opportunity to hear from world-renowned experts and participate in the panel discussion of issues of aesthetic, horticultural, educational, social and financial aspects of the Japanese gardens outside Japan.
For information regarding the program, featured speakers and demonstrators and registration, please click here.

intrepidmouse . Last modified Sep 10, 2010 9:36 p.m.
---