Fifth Annual Powell Grounds Ball Game
Oppenheimer Park
400 Powell Street
Vancouver, British Columbia
Canada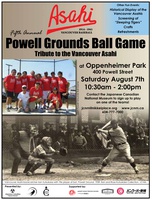 July 9, 2010
Vancouver, BC
For immediate release
Japanese Canadian National Museum and Carnegie Community Centre present
Fifth Annual "Powell Grounds" Ball Game
at Oppenheimer Park
Tribute to the Vancouver Asahi
Saturday, August 7, 2010 10:30am-2:00pm
OPPENHEIMER PARK at 400 Powell Street
FREE
Are you a baseball fan? Come out to the renovated Oppenheimer Park on Saturday, August 7th for a fun, community baseball game. This annual event is a tribute to the Vancouver Asahi Baseball Team. Sign up to play on a team, or come watch the game. This family friendly event includes a historical display of the Vancouver Asahis, screening of the documentary film Sleeping Tigers, crafts, and refreshments. Contact the Japanese Canadian National Museum to sign up to play on one of the teams.
This event is supported by the Powell Street Festival, Vancouver Japanese Language School and Japanese Hall, and Vancouver Canadians.
A Brief History of Vancouver's Asahi Baseball Team
From 1914 to 1941 this talented team of Japanese Canadian baseball players competed and won in the Vancouver senior leagues, instilling enormous pride in a community faced with racial prejudice and inequality. The Asahis played baseball like no others, and they were the only ethnic team in the league. Barely five feet tall, "dancing shortstop" Roy Yamamura, was incomparable racing around the bases to steal the opposition blind. Long before Little League, Coach Harry Miyasaki created three tiers of junior teams to nurture talent for the Asahi brand of "brain ball". This club was legendary, and they had a dream.
This team began as an athletic club of young men in 1914. After several years' transformation into a formidable team of disciplined players, the Asahis travelled to Japan in 1921. Later they played against the professional Tokyo Giants. As William Humber writes in Cheering for the Home Team: The Story of Baseball in Canada , by the late 1920's the Asahis were "the top gate attraction on the coast," and they joined the top Vancouver city league at Athletic Park. Cheered for their brilliant strategies in fielding and pitching, as well as their well-practiced bunting and base stealing, they were the first Asian Canadian team to win the Terminal League Championship. They won this for the first time in 1926 and they continued to win it again and again. The Asahis were a dynasty, and they went on to claim ten Vancouver senior league championships and five Pacific Northwest championships in a row. Their days in the limelight came to a halt on December 8, 1941.
Confined in internment camps during the Second World War, the disbanded Asahi members began forming baseball teams in the British Columbia interior. They helped communities overcome bitterness and forged friendships with local residents. When they were again relocated at the end of the war, many moved east to Ontario and Quebec to live and work, but many continued to coach younger generations, where their legacy lives on.
The Vancouver Asahi team was inducted into the Canadian Baseball Hall of Fame in 2003 and into the BC sports Hall of Fame in 2005.
Visit online exhibition http://virtualmuseum.ca/Exhibitions/Asahi/
Oppenheimer Park
Once known as the Powell Street Grounds, Oppenheimer Park named for Vancouver's second Mayor, David Oppenheimer, was officially opened in 1898. Occupying a city block, this 0.98 hectare park is located in Vancouver's Downtown Eastside (DTES) neighbourhood, at the corner of Powell and Jackson Streets. In the 1930's the park was the only place where political gatherings could be held, and was consequently the location for many Depression-era demonstrations. Today, it caters to Vancouver's downtown eastside, serving as a recreational and social centre for the community. Its facilities include softball grounds, a basketball court, children's playground a community centre, and features many shaded seated areas. Another highlight of the park is the Powell Street Festival, an annual mid-summer event celebrating Asian-Canadian culture.
The Japanese Canadian National Museum collects, preserves, interprets and exhibits artifacts and archives relating to the history of Japanese Canadians from the 1870s through the present, and communicate the Japanese Canadian experience and contribution as an integral part of Canada's heritage and multicultural society.
-------------------------
Media contact
Nichola Ogiwara, Museum Assistant & Program Coordinator
National Nikkei Museum & Heritage Centre
nogiwara@nikkeiplace.org
tel 604.777.7000 ext.109 fax 604.777.7001
6688 Southoaks Crescent, Burnaby, BC V5E 4M7 Canada
www.jcnm.ca www.nikkeiplace.org

NNMCC . Last modified Jul 09, 2010 1:37 p.m.
---