SUSHI ROLLING PARTY!
Japanese Culture Center
1016 W. Belmont Ave
Chicago, Illinois
United States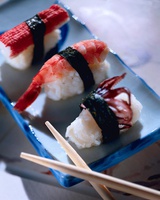 *1 Block west of the Red Line Belmont Stop
Cost is $12 (pre-pay only); $15 at the door
http://japanculturecenter.com/

It's almost summer and time for sushi! Join the Young Professionals Committee, the Aikido International Foundation and others in a sushi-wrapping extravaganza at the Japanese Culture Center. Whether this is your first time rolling or you wrap sushi or California rolls daily, this event is for you. Every person will have enough seaweed to roll at least 3 full sheets (about 15 pieces). Ingredients include: sushi grade salmon, tuna, crab meat, cucumbers, bamboo, carrots, avocados and more. The only ingredient missing is YOU!

To make a reservation please contact Genea japanese.culture.center@gmail.com by Friday July 31st to ensure enough ingredients.

Pre-Payment is appreciated and can made at the JCC or over the phone to the JCC at 773.525.3141

yn . Last modified Jul 09, 2010 12:12 p.m.
---