Educator's Open House: Virtual Visits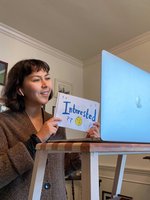 FREE
Curious about JANM's Virtual Visits? Wondering if a virtual visit will be appropriate for your students? The JANM Education Unit invites teachers and educators to join us for a peek into our virtual visit experience. Join us as we walk through our available virtual visits designed for students in grades 1-3, 4-6, and 7-12. Get a sense of what each program entails and how your students will be engaged. Afterwards, if you still have questions, JANM educators will be on hand until 5:00 to informally chat and answer any specific questions participants may have.
RSVPs are required using the link below. You will be emailed links and instructions to join our conversation on Zoom. Please confirm that the email that you register with is the best way to reach you. Contact publicprograms@janm.org if you have any additional questions or specific access concerns.

JANM . 更新日 2月 27 2021 10:08 a.m.
---