Tatsu Aoki's Fusion Miyumi Project
Harris Theater
205 Randolph
Chicago, Illinois
United States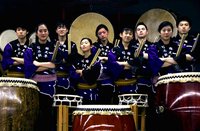 Tatsu Aoki's fusion
Miyumi Project
featuring
JASC Tsukasa Taiko
at Chicago Human Rhythm Project's 20th Anniversary
Global Rhythms 6

Sunday, November 28, 2010
3:00pm
Harris Theater for Music and Dance
205 Randolph Drive, Chicago, IL 60601
---------------------------------------------------------
Support the Japanese American Service Committee by using the promotional code CHRP-JASC when purchasing your tickets! GLOBAL RHYTHMS will donate 50% of your ticket purchase directly to the Japanese American Service Committee while you and your friends and family save 10% off your ticket price and enjoy a spectacular cultural event on November 28th at the Harris Theater in Millennium Park.
Tickets are $15 - $55 and remember, 50% of your ticket will directly support JASC while you save 10% off your admission when you use the promotional code!
You can use the promotion code CHRP-JASC when you purchase your ticket by phone, online, or at the Harris Theater Box Office, but it MUST be mentioned to make the donation to JASC and enjoy your discount.
For tickets, call 312.334.7777 or click here to purchase tickets online.
---------------------------------------------------------
Sponsors include:
Illinois Arts Council, Alphawood Foundation Chicago, The Joyce Foundation, Chicago Department of Cultural Affairs, Gaylord and Dorothy Donnelley Foundation,
Richard H. Driehaus Foundation

intrepidmouse . 更新日 11月 12 2010 4:44 p.m.
---