Pride of Being Japanese

When I first met Richard Fukuhara—a third generation Japanese American artist who's known for his unique photographs—for the first time, he told me, "I am proud of being Japanese." Prior to meeting Richard, I'd read an article about him and knew that he was born in a Japanese American concentration camp in Minidoka County, Idaho. He returned to Los Angeles after the war was over, but he and his family didn't have a home in which to return. Instead, his family spent three months living in a church in the Little Tokyo neighborhood of Los Angeles. Richard's father rebuilt his gardening business and later his father and mother started a nursery from nothing and worked tirelessly to support their family. Clients at his nursery were sparse at first since there was still a societal prejudice against Japanese Americans.
Richard quickly realized that his surroundings were hostile to him just for the fact that he was Japanese. He says, "Back then, I really wanted to be an American and not Japanese. I didn't like Japanese school, and that's why I missed my opportunity to learn Japanese. But as the years went by, I began to gain confidence in myself being Japanese. Looking in hindsight, I'm regretful for not taking the time to learn Japanese."
It wasn't long before his father's business began to pick up. "My father is a hard working man," Richard said proudly about him. "My father was born in Santa Barbara, California, and went to school in Yamaguchi—he's Kibei Nisei and in Japan received a 2nd degree black belt in Judo. My mother was born in Portland, Oregon. She's quite the Bon dancer and also skilled with her hands—she's able to tailor kimonos."
His father sold bonsai at his nursery, and his mother did Ikebana (flower arrangements). Richard's artistic ability was definitely fostered by both of his parents. "I remember our whole family put together a family art show—me, my three brothers, two sisters, and my parents. A lot of people came for the opening day."

The Important Thing is to Never Forget
Richard grew up in Long Beach, and while attending college, he worked part-time as a local newspaper sports photographer and as a part-time media photographer for the local hospital. In the late '60s, he was drafted into the military and worked as a unit still photographer. After being discharged in 1970, he began his own studio. Even in the midst of his busy schedule, Richard never forgot to give back to his community. Even to this day, Richard's business card is a testament to the level of involvement in his community as six different organizations are listed, in alphabetical order, below his name.
Richard began working with LANSCA (Los Angeles-Nagoya Sister City Affiliation)—an organization with a 55-year-old history—when they approached him about hosting a gallery show on his series, "Tapestries." This series shows images of the city in a kaleidoscope-like fashion. Works such as, "Los Angeles City Hall" (2005), "Walt Disney Concert Hall" (2007), "Nagoya City Hall" (2009), and "Nagoya JR Towers" (2010) were showcased.
Love to Nippon is an organization that supports the recovery effort of the Great East Japan Earthquake from the United States. "It was started by Masako Unoura, a survivor of the tsunami. The organization raises funds by hosting a golf tournament in Japan. Both Masako and I are moved by the outpouring of support and care by the Love to Nippon volunteers and participants. The important thing here is to never forget. Such a tragic event often dulls and fades away from people's memory as time passes (Richard has visited the affected area on two occasions). That's a tragedy in and of itself. It's important to support the recovery effort as we keep ourselves from forgetting the tragedy itself."
Richard also says he was deeply moved by the survivors of the earthquake and tsunami. "People would stand in long lines to wait their turn without trying to cut in front of other people. The level of patience displayed by these people was virtuous."
Richard just completed his third term as President of the Southern California Yamaguchi Kenjinkai (Yamaguchi prefectural association) "Being involved in the Yamaguchi Kenjinkai is a part of my family tradition. Both my father and my older brother were presidents in the past. By attending the Kenjinkai meetings, I'm able to network with other Kenjinkai members. All of us, in every prefecture, are dealing with the question of how to pass down our traditions to the younger generation." Many of the Kenjinkai presidents speak English, but contrarily, the younger generation doesn't understand Japanese. Richard tells us that the Yamaguchi Kenjinkai conducts its activities in English and is successful in involving the younger generation. Last year, 250 people gathered for their annual picnic.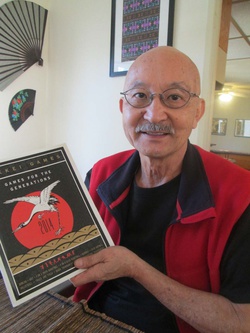 The Nikkei Games, which Richard is one of the founders, gathers a wide age range of Japanese Americans, from kids to seniors, to participate in a sports festival. This event has been going on for more than 20 years. Richard passionately stated, "It's important to have inter-generational interactions for the community to participate in one event, rather than having the young people gather among themselves or the seniors be with their peers."
The Tanabata Festival is an event that connects Los Angeles with Sendai, a city that was greatly affected by the Great East Japan Earthquake. The festival decorates Little Tokyo with beautiful Tanabata-themed decorations. Richard created a few pieces of work using the Tanabata decorations as his motif. "When we returned from the concentration camp, my family lived in a temporary housing facility in Little Tokyo. For me, Little Tokyo is like my hometown. I help out with this event because I wanted to do something for my hometown and to bring people back to Little Tokyo."
"Shadows For Peace" is the sixth project that Richard lends his hand to. The title refers to the shadow patterns of people found that were caused from the heat intensity of the atomic bomb. The sub-title of this project is, "For the Sake of the Children." Richard works tirelessly to convey the events that were experienced in Hiroshima and Nagasaki to the people today.
* * * * *

*JANM and the Orange Coast Optimist Club will be hosting a forum, "Shadows for Peace for the Sake of the Children (Kodomo no Tame Ni): The Hiroshima and Nagasaki Experience" on Saturday, March 21, 2 p.m. at the Japanese American National Museum. The event will address the devastating and ongoing effects of atomic weapons on the people of Japan and the world. A range of internationally recognized speakers will discuss the legacy of the nuclear age and present video interviews with hibakusha (atomic bomb survivors). Doug Erber, President of the Japan America Society of Southern California, will serve as emcee.