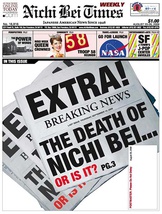 During the first major wave of Japanese migration to the United States, roughly 1880-1924, the Issei found themselves in an unfamiliar, often times hostile world. They were actually a diverse group of people, stemming from regions throughout the Japanese archipelago, a country that at the time was in the midst of great change. Yet they faced a similar challenge of forging their individual futures in a new land while at the same time maintaining the connections shared.
[inline:nichibei.jpg]
One of the ways in which the Japanese migrants faced the struggles they encountered was by telling their stories.
As the late …