Portland-based writer and musician Kou Sugita gives us several pieces in this month's column that nudge us into a quiet space of listening—to past echoes that still reverberate; to colors that heed our remembrance; to "the shadow of a shadow of a sound." Kou's pieces here are shown with a light of subtle beauty and a depth of exploration that beg for more than one reading. Enjoy...
—traci kato-kiriyama
* * * * *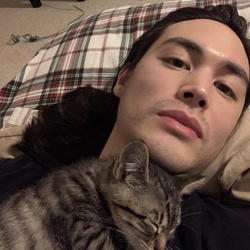 Kou Sugita was born in Japan and relocated to Oregon as a baby. He currently lives in Portland with his partner and two cats. His poetry has appeared in The Volta, Oversound, TYPO, and elsewhere. These poems were previously published by Oversound. A semi-retired poet, his outlet is music and selling vintage clothing these days.
From Transfer
…
…
How does the electricity lick
Off the ends of our circular arms
Slowly and lapping our heels
Lilac wise
Or hackles of rage
Language / never
Precisely
Into its cadaverous memory
What was sensual only
In the light / inching closer
Between my synapses
…
…
Out of echoes—
Want to say oh
Look my family mirrored
In the commercial blimp passing overhead
A speck in a speck in the speck
/ And yes
Hear the loneliness
In their will / collective / collected / after imaged / webbed /
/ Eyes then hand then sun
Same green silhouette / same red vein
(Realize a suspicion in that line)
Out on a valley fluff grass / free to think anything
Only a fumbled focus to knowing / All my friends and I
Will labor no way around / decompose while after making
Circle towards dying
…
…
No holidays / except in friends
So how to believe in a
Most prodigious night
Of all nights on earth?
There are ghosts in me
Who can still bruise
Some already in
Passing / Pushing through
A silver arch
Of waves
Like a knife's flathead pressed
Against a thought
Don't slip / be ready to be
Ignited / On how many nights
Is there celebration of their breath
Okay shed
The translucent
Cicada wing
Batting the dead off
The shadow of a shadow of a sound
I'm trying a look / over the tranquil hills
(Have more than a gaze overseas)
…
…
It's yellow rotating as spotlight against an ocean
Yellow the color of nostalgia / It seems
I can only remember one funeral (or memorial / ?)
In Japan / men and women silent / children
On the ground like purple balloons
(Assume the gesture of holding in all liquid thought) / I let mine drag on
Sun bleached concrete / sputter up into the smoke rising
From the altar's shiny black stone
Clean into the sky I become part of the forgetting
A younger self somewhere in Oregon
Learned the first words (can) become secondary
From when / Learned by meeting / Stem(ing)
From the exports grandparents packaged
Then dang in unison / with all my friends / Learned new
This time in an age of progressions / Progressions of place
Sitting around the oh yeahs / my head
Reeling the realness / It's like someone else's fist
Clenching a red sheened balloon
Becomes / as if an ours / on a Pacific shore
Its firey dawn / I stick out my tongue to the source
Fireworks / And settlers provoking some seals
*These poems were originally published in Oversound, Issue 6 (2020).