"To spread 'Ikejime' not only in the States, but throughout the world is my big dream," says Shin-Issei Seiichi Yokota. The 43-year-old from Toyama prefecture is proud to promote this ancient Japanese technique to keep the fish fresh much longer than the conventional method used in the States. He has decided Los Angeles, California is his adopted "Furusato," new home.
Yokota's clients are all high-end restaurants in and around L.A., including Spago in Beverly Hills, "Asanebo" in Sawtelle Japantown, and Giorgio Baldi in Santa Monica. Every Wednesday morning, he drives to LAX to receive the shipment of Ikejime yellow tail directly from his hometown of Takaoka along the Japan Sea. It takes about 50 hours from the catch to his hands. It is the fastest way to get fish from Japan and he is very proud as "Time is key for freshness."
Yokota is the eldest son of "Yokose" wholesale fish company with over 150 years of history, the oldest and most respected company in Toyama. He was raised as the heir apparent since childhood. Upon graduation from a local high school and a short study at the University of Central Florida, he took an apprenticeship at the old Tsukiji Fish Market in Tokyo for three years followed by eight years of work at Yokose to learn Ikejime from highly acclaimed professionals.
As he was getting more responsibilities at his father's company, he spent time to analyze the future of the wholesale fish industry. The prospect looked grim as the population is rapidly aging in Japan with consumption of seafood declining, particularly among young people. "When I proposed a business expansion to overseas, my father was strongly against it," Yokota explains. Senior employees were not sympathetic to him, either. They even looked down on him for such an outlandish idea. After spending an agonizing two years, feeling unappreciated, Yokota decided to move to the States. By then, he and his parents had stopped talking. He was in a state of "Kando," being disowned by his father.
No one saw him off at the Toyama Airport when he left for the States in June 2010. His companion was his one suitcase. He knew no family or friends in the States. With the $100,000 he saved while working for his father, he searched for the best location to start his own business, visiting New York, Seattle, and San Diego. When he finally arrived in L.A., he thought, "This is it!" He liked the climate, the relative proximity to Japan, and many quality Japanese restaurants.
Yokose World Exporter was established in L.A. in 2011 with the capital of $20,000. The following year, Yokota went back to Toyama and asked his younger brother, Kenji, who had come back to Toyama to fill in the vacated "heir" position after Yokota's departure. "Promise me to send the best quality Ikejime Yellow Tails to L.A.," Yokota pleaded. He and his father were still not talking.
The next five years, Yokota worked 14 hours a day with no days off, knocking on the doors of 30 restaurants daily which he found in Yelp that had three or four $ signs. There were months when he could sell only one third of his stock. "In those days, if I could sell half of what I had, that was a good day," he confides. Because of his passion and hard work, the reputation of the Ikejime yellow tails from Toyama started to spread by word of mouth.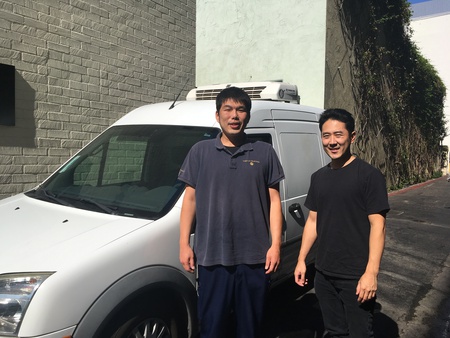 Three years ago, Yokota bought a refrigerated truck and hired a Japanese American employee from Long Beach. He introduced Yokota to a fisherman from Santa Barbara and this became a turning point. Now Yokota had not only the yellow tails from Toyama, whose quality is unparalleled because the sea water there contains many minerals, but also black cod fish, rock fish, sea urchin, abalone, and spotted prawns from Santa Barbara. He treats this seafood with Ikejime as soon as they arrive at the Newport Beach harbor.
Yokota has a strong advocate, Mr. Tetsuro Yahagi, 41, who is also a Shin-Issei and the Chef de Cuisine at Spago Beverly Hills. "Yokota's fish is extraordinary. It is sometimes three times more expensive, but when it comes to freshness, nobody can beat his," says Yahagi with confidence. He tries to include Yokota's fish as often as possible for his special guests. Regular fish killed by icing lasts only two days. Ikejime is a technique to extract blood from the neck of a fish, which prevents decaying rapidly. Ikejime fish, therefore, can last up to five days, more than twice as long as the regular fish.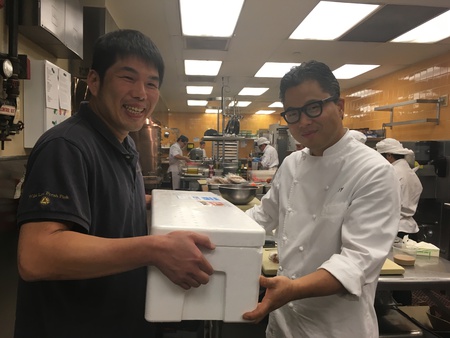 His hard work is paying off and the sales doubled last year to $300,000 compared to 2016. Yokota's Ikejime somehow reached Arizona. The very exclusive New American restaurant, Binkley's, in Phoenix recently called and started to place orders. Yokota plans to expand the sales area to heartland U.S.A. Yokota's business expansion continues as he visited 10 restaurants in Minneapolis two months ago, which have three or four $ signs in Yelp, with Santa Barbara fish treated by his Ikejime technique. He plans to visit Utah this month.
Yokota will go back to Japan this fall for the first time in seven years. He has since reconciled with his father. His brother initiated a phone call between them and his father spoke to Yokota for the first time. It was when Yokota's business finally started to make profits. "Ganbatta-na," his father said. It was just one word of compliment, but it brought the reconciliation between the father and son. Today the website of his father's company "Yokose" proudly introduces Yokota's business activities in the States. "L.A. is my home. From here, I want to introduce Ikejime as Japan's ancient fish treatment technique throughout the U.S. and to the world!"