Like many Sansei, I have agricultural roots. My father's family worked as sharecroppers during the Depression. My aunties have told stories of harvest time, of the youngest auntie running away to read a book in the orchards. As for me, I grew up in California's Central Valley and have been spoiled by an abundance of fresh produce for most of my life. Boxes of Satsuma mandarins each November. Flats of yellow and white peaches, baskets of strawberries just minutes from our house, where we visited our farmer's market each week.
I recently had a chance to revisit my agricultural roots, this time through a research and writing project. The topic? Japanese American farms and farmers on Vashon Island, Washington—an island nestled between Seattle and Tacoma. I had been asked to research and write about sites on Vashon Island which were related to the island's rich but relatively unknown Japanese American history. The project was funded by 4Culture, and organized by the Washington Trust for Historic Preservation. Building on the Trust's existing online project, Revisit WA (in turn based on old WPA driving tour guidebooks for each state), my assignment was to develop a driving tour of sites related to Japanese American agriculture and history on the island. Later, the Trust asked me to develop a short overview essay about Japanese Americans in Washington State, and I learned more about different Nikkei populations from Seattle and Tacoma to Auburn, Yakima, and Spokane.


Nikkei Farms on Vashon Island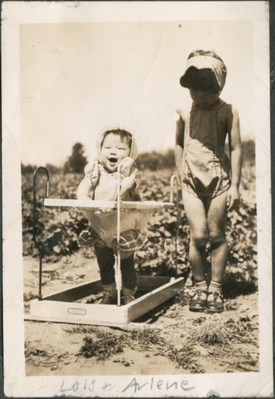 Farms? On Vashon Island? Japanese American ones? There were question marks behind each part of the topic. It goes to show just how sedimented history is, how drastically a landscape can change, how just scratching each layer of the Japanese American story only reveals so much more underneath.
Until a year ago I didn't realize that there were many farms at all on Vashon. It's just a 15-minute ferry ride from my adopted hometown of Tacoma, Washington. I had visited my friends on Vashon Island for years and it always struck me as a beautiful place: heavily wooded, deeply green, surrounded by the peaceful waters of the Sound. I'm accustomed to the thinking of farms as the wide open expanses of the Central Valley in California, and though I had seen one or two small roadside farm stands on our drives around the Island, I hadn't thought of it as an agricultural community. Pamela Woodroffe's collection, Vashon Island's Agricultural Roots: Tales of the Tilth as Told by Island Farmers, soon disabused me of that idea: one farmer recalled being able to see clear across the Island.
Japanese Americans. It had never occurred to me, in all my visits over the last few years, that the Island had a rich and multifaceted Japanese American history. Walking around the "town" portion of Vashon Island has never felt racially diverse, to be honest. Members of my family are friends with the Nisei Vashon writer Mary Matsuda Gruenewald, author of the memoirs Looking Like the Enemy: My Story of Imprisonment in Japanese American Internment Camps and Becoming Mama-San: 80 Years of Wisdom. She has become known for these books, and for her willingness to speak about her wartime experiences as a Nisei.
But I did not know that so many of the farms on the Island were once Japanese American, nor that they had been part of the Island's history. Japanese Americans have certainly not been the only farmers on the Island, but it was surprising to find out just how many Nikkei farms were there. And there were certainly more Nikkei farms besides the ones that we covered in the project.
Though perhaps smaller in numbers and much less known than history in cities like Seattle or islands like Bainbridge Island, Vashon has a great deal of Japanese American history. There was so much history, in fact, that I asked my friend Yonsei writer and scholar Vince Schleitwiler to help with the writing and research. We worked with many organizations, including the Friends of Mukai, the Vashon Land Trust, the Vashon Heritage Museum, Densho, and the Japanese Research Project of Vashon in order to bring these stories to light. Island historians Bruce Haulman and Alice Larson were especially helpful, bringing us on driving tours and documentary filmings, introducing us to Nikkei descendants of Vashon farmers, current farmers and Nikkei residents of the Island, and generously sharing the research they had gathered over the years.


"Real" and Virtual Visits to Vashon Island
The field visits were some of the best parts of the work. Historian Michael Sullivan and I spent time at the Mukai Farmhouse and Garden, Mukai Estate, an estate made locally famous. B.D. Mukai built the farmhouse in 1927 which still stands today; his wife Kuni Mukai designed the Japanese "stroll garden" that still graces the front of the house. B.D. developed and patented a system of barreling and shipping strawberries for cold storage. The processing plant is also still standing. Once named one of the most endangered historic properties in 2013 by the Washington Trust for Historic Preservation, the estate is now in the hands of an Island non-profit. The "Friends of Mukai" hold regular events and open houses there now and plan to hold more as a center of the Island's Japanese American history.
We spent a sunlit afternoon driving around the Island with Bruce and Alice; we saw old locations of ferry docks, and a few spaces still wide open to the sunlight on Maury Island (a smaller island connected to Vashon). Bruce's knowledge of the Island is encyclopedic, and mostly at his fingertips—he could tell us about the history of the roads we drove on, and pointed us to the precise locations of these farms.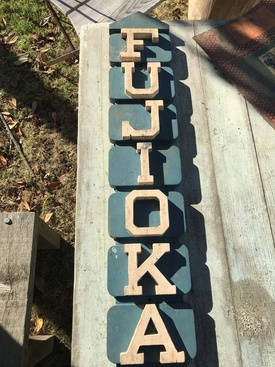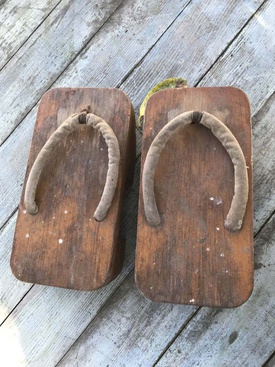 I was moved by the efforts of current Island farmers to preserve the history of their estates. On another visit, we visited a "kit house," probably ordered from Sears Roebuck and beautifully preserved, with a wooden mailbox sign from the old owner, the Yoshimura family. One of the highlights of the project for me was visiting Forest Garden Farm, formerly owned and operated by the Fujioka family. The current owners, Lisa Hasselman and Chris Hedgpeth, have been in contact with the Fujioka family, and they had binders of information as well as recipes, pictures, and anecdotes to share.
Speaking with Nikkei Island residents, past and present, was also a treat. On one visit Michael and I walked between the lovingly tended beds at Green Man Farm, owned and operated by Jasper and Will Forrester. (Jasper is a Nikkei woman from California, like me.) I spoke by e-mail with Mark Hoshi, grandson of the pioneer Hoshi's, about his family's greenhouses and flower deliveries to area stores. A chance mention of his adopted grandfather, Kuichi Tanaka, led to a startling discovery—as a young man, the adventurous Tanaka-san had made his way around the world on his bicycle, making his living through speaking engagements, before arriving on Vashon Island. What an amazing experience, to find a historic picture of Mark's grandfather in an old newspaper, and read Mark's exclamation, "That's him!"
Meeting the four nieces and sister-in-law of Mary Matsuda Gruenewald was another highlight for me—talking about growing up Japanese American in a predominantly White environment was an unexpected commonality. From the Matsuda daughters we heard stories of working the strawberry harvests, as many Island teenagers did in the summer.
Vince worked on an essay about August, or "Augie," Takatsuka, a Nisei farmer who served in the 442nd and returned to raise strawberries and then Christmas trees on his farm.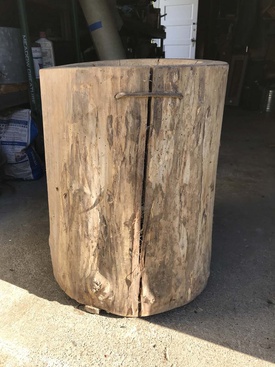 "Of course, what made those places come alive, for me, was the people—people like Augie Takatsuka, a colorful Christmas tree farmer with a wooden leg from his days with the 442nd. He was a real island character, and though I never had a chance to meet him, I can imagine what it must have been like to sit around and listen to him tell stories." There were many stories about "Augie" and his journey from Vashon Island to Europe and back again.
Vince also worked on several essays about the island's ferry docks, which have their own history and archives. There are currently two ferry runs that transport passengers north to Seattle and south to Tacoma, but the Island really used to be a series of isolated coastal areas connected by smaller fleets of ferries rather than roads. The Island's current geography makes different sense to me now. "As a transplanted Chicagoan," says Vince, "what I appreciated most about this project was learning about how ethnic history comes out of a sense of place. We have our own Japanese American history in the Midwest, too, but in Vashon Island and the Northwest that history is just so deeply embedded in the landscape."


Other Nikkei History Projects on Vashon Island
Serendipitously, our efforts for Revisit WA aligned with several other projects related to Japanese American history: the Japanese Research Project has just completed an exhibit called Hikikomogomo (Joy and Sorrow) on the Island's Japanese American history, now up for a year at the Vashon Heritage Museum. A documentary is in progress for the "Voice of Vashon," focusing on Japanese American residents past and present. Open houses are regularly scheduled at the Mukai House and Gardens. And the Matsuda Farm—once Mary Matsuda Gruenewald's farm, along with her brother Yoneichi's, which is partly forest—is now part of the Vashon Maury Island Land Trust, an organization dedicated to preserve land that has conservational value on the Island. The Trust is working to bring part of the Matsuda farm back into agricultural production. Because the Matsuda Farm is so close to several other historically Nikkei farms, including the Mukai one, there will be a Japanese American Heritage Trail to follow eventually.
About working on the Heritage Museum exhibit, Bruce says that: "Working on the Joy and Heartache exhibit has been important to me as the project has expanded our knowledge of the Japanese American experience on the Island, has allowed me to get to know a wide range of Japanese American Island residents, and has helped clarify the dangers we confront in our times as we demonize others in the name of national security. The exile and imprisonment of American citizens based on fear and prejudice must never happen again. Perhaps the most significant thing for me is that this project has brought together Vashon Japanese Americans, many of whom have no connection to the historic Japanese American families on the Island, but have their own historic family stories, who have begun to develop a new sense of a Japanese American community on Vashon."
I will never see Vashon Island the same way again, and I am grateful to everyone who helped this project come to fruition.